Waterproof Synthetic Paper

P.O.P. Displays, Banner Stands & General Signage

P.O.P. Displays, Banner Stands & General Signage

Window, Wall & Floor Graphics

Window, Wall & Floor Graphics

Cut Films

Application Tapes & Premasks

Carbonless Papers

Extruded Films

Applications

Printer Compatibility

Sustainability

About Us
X

Waterproof Synthetic Paper

P.O.P. Displays, Banner Stands & General Signage

Window, Wall & Floor Graphics

Cut Films

Application Tapes & Premasks

Carbonless Papers

Extruded Films

Applications

Printer Compatibility

Sustainability

About Us
One-Step vs. Two-Step: Which Vinyl Print Media is Best for My Floor Graphic?
Posted by
Nekoosa
on 10/6/22 11:03 AM
---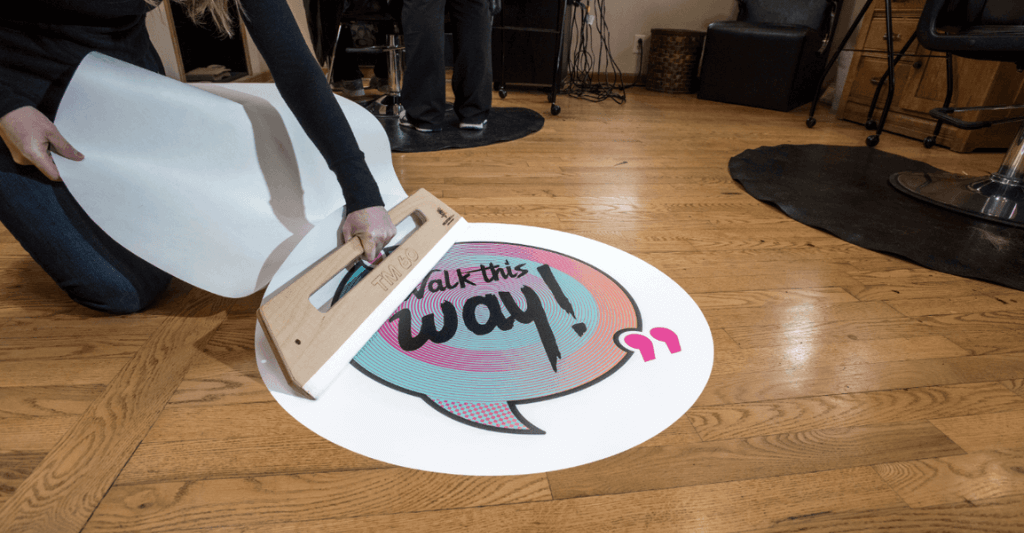 One-step sounds simple and easy. Two-step sounds a little more sophisticated and intricate.
When it comes to selecting the right print vinyl media for your floor graphic, there's actually quite a bit more to consider when choosing the product that will best help you create a graphic that dazzles the eye and provides the best value for you or your customer.
The challenge is knowing the right questions to ask in order to select the vinyl print media that will help you create a superior floor graphic. Regardless of whether your challenge is easy application and removal or the widest variety of application surfaces, there is an ideal tool for this job — and Nekoosa has the right vinyl print media to help you get the job done.
Let's look at a couple of the most common questions about one-step and two-step vinyl print media to help you understand which is the best choice for your floor graphic.
Which print vinyl media simplifies the production of floor graphics?
Unlike a two-step vinyl substrate, a one-step vinyl print media does not require the use of an overlaminate film in order to create a quality, vibrant floor graphic. Not only does eliminating the need for an overlaminate reduce the overall production lead-time and cost, but it creates flexibility for industries like retail or hospitality who frequently swap out promotional signage. A one-step vinyl like Trifecta® from Nekoosa that does not require the use of an overlaminate helps these industries adapt to signage changes more quickly and more efficiently.
One-step options also create opportunities for print shops that do not have a laminator. Since Trifecta® from Nekoosa does not require an overlaminate film, these printers can produce short term, promotional vinyl floor graphics in-house on their eco-solvent, latex or UV wide format printer.
Is one-step or two-step vinyl media compatible with the widest range of application surfaces?
Two-step media for floor graphics uses a printable vinyl film that is easily applied to a variety of surface applications for consistent, reliable use. A removable adhesive that comes with this film not only provides a tighter, smoother application to the surface, but it also allows for use with a wide range of surfaces — in fact, Walk-On Graphics® from Nekoosa can even be applied to carpeted surfaces for indoor use.
In addition, because two-step vinyl is applied with an overlaminate, a two-step vinyl floor graphic can be used with regular cleaning and maintenance to help you get the most out of your floor signage.
Is one-step or two-step print vinyl more durable?
Two-step vinyl print media consists of two component parts: the printable vinyl base film and an overlaminate to help adhere and protect the graphic once applied. The addition of an overlaminate not only offers an extra layer of protection against normal wear and tear of repeated use, but Walk-On Graphics® two-step vinyl print media by Nekoosa uses a UL 410 slip-resistant overlaminate. This also helps protect your floor graphic against scrapes, scratches and scuffs and increases safety by reducing the risks of slips or falls.
Which print vinyl media is best for short-term use?
With applications where graphics are frequently being swapped, you want a print vinyl media that is easy to apply and remove without any mess or need for special solvents, but you also need a durable product that will remain free of peeling, bubbling or other visual blemishes that could render your floor graphic ineffective and unattractive.
Plus, one-step vinyl media is faster to produce and apply compared with two-step print vinyl, which makes it the ideal choice for floor graphics where cost and ROI are a top priority.
Why choose Nekoosa for your one-step and two-step vinyl print media?
Whether your application demands the speed and ease of Trifecta® one-step print vinyl, or the durability and versatility of Walk On Graphics® two-step vinyl, Nekoosa's vinyl print media help you unlock superior design creativity and discover the power of floor graphics that are consistent and reliable.
Available in a variety of print formats like wide format, conventional offset, UV offset and UV screen, vinyl print media from Nekoosa helps you produce versatile floor graphics that can be used in almost any application.
Learn more about Trifecta® and Walk-On Graphics® vinyl print media or request your sample today.