Waterproof Synthetic Paper

P.O.P. Displays, Banner Stands & General Signage

P.O.P. Displays, Banner Stands & General Signage

Window, Wall & Floor Graphics

Window, Wall & Floor Graphics

Cut Films

Application Tapes & Premasks

Carbonless Papers

Extruded Films

Applications

Printer Compatibility

Sustainability

About Us
X

Waterproof Synthetic Paper

P.O.P. Displays, Banner Stands & General Signage

Window, Wall & Floor Graphics

Cut Films

Application Tapes & Premasks

Carbonless Papers

Extruded Films

Applications

Printer Compatibility

Sustainability

About Us
How One-Step Vinyl Print Media Makes for Simple, Easy-to-Use Floor Graphics
Posted by
Nekoosa
on 9/22/22 3:05 PM
---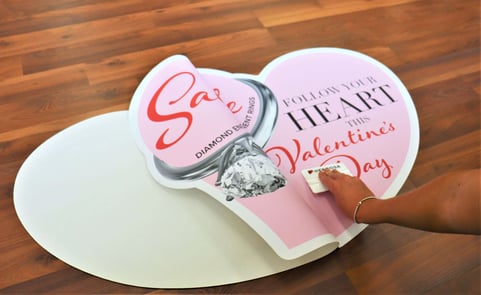 Choosing the best vinyl print media for vibrant, durable floor graphics that inform and delight can be a tricky task.
This is particularly true in instances where floor graphics need to be frequently changed, or in high-traffic applications such as stores, restaurants, hotels or public institutions like museums or government buildings.
Whether it's directional arrows, wayward signage, social distancing floor graphics or floor advertisements, selecting the right vinyl substrate for your floor graphic can go a long way in saving you time, money and resources — not to mention reducing the stress or anxiety involved with worrying about whether your vinyl media is the right fit for the job.
While a two-step application vinyl substrate has its own unique value, one-step vinyl print media is ideal for creating easy-to-use floor graphics with superior quality. Let's look at a couple of reasons why one-step vinyl substrates are well-suited for simple, quick and quality floor graphics.
How does one-step vinyl media simplify the production of floor graphics?
Unlike a two-step vinyl substrate, a one-step vinyl print media does not require the use of an overlaminate to create a quality, vibrant floor graphic. Not only does not requiring an overlaminate help reduce overall cost and lead time, but using a one-step vinyl for floor graphics creates more versatility in that you can print a variety of formats — like wide format, for example – without the need for a laminator or any additional processes.
This is especially important and valuable for industries like retail or hospitality where graphics are frequently changed or swapped, and a one-step vinyl that does not require the use of an overlaminate helps these industries adapt to graphic changes quicker and more efficiently.
Is one-step vinyl easy to apply and remove?
A big concern for choosing vinyl print media for a floor graphic application is whether any additional equipment or overlaminates are required to ensure a clean, durable bond to the application surface. Not only can some of these additives require additional time and resources, but they can also leave behind unpleasant residue or odors.
A one-step vinyl floor graphic can be easily applied and removed in just a single step without the need for additional tools, equipment, or solvents. Plus, a one-step vinyl print media can be removed quickly and cleanly without any residue or mess on the applications surface, which makes it an ideal fit for the retail and hospitality industry.
Is one-step vinyl durable enough for short-term floor graphics?
With vinyl print substrates used in high-traffic areas, durability is an important element to consider to help ensure your floor graphic remains free of scuffs, peeling, bubbling or other visual blemishes. In addition, you want to select a vinyl print media that won't prematurely fade or diminish, which could render your floor graphic ineffective and unattractive.
Because of the ease of use and application, one-step vinyl print media is the substrate of choice to create short-term indoor floor graphics with a service life of six months or less. In addition, using UV inks with your one-step vinyl can provide added protection from potential scuffing as well as fading or damage from prolonged light penetration. .
Which surface applications are compatible with one-step vinyl print media?
It can be a frustrating moment when you go to apply a carefully designed and printed vinyl media floor graphic to an application surface only to discover the surface and vinyl are incompatible. Such incompatibility means floor graphics that simply don't bond — or bond very poorly — which can result in significant safety concerns as well as poor aesthetics.
With its simplicity in design and application, one-step vinyl print media is seamlessly compatible with a variety of surfaces without the need for any specialized tools or equipment. This superior level of versatility makes one-step vinyl print media a one-size-fits-all hat in a large number of contexts and with a wide range of surfaces, including sealed wood, vinyl, tile and sealed concrete.
Why choose Trifecta® one-step vinyl from Nekoosa?
Trifecta® one-step vinyl print media from Nekoosa sets the standard for easy-to-use, quality floor graphics.
Because Trifecta® vinyl print media can be used to create floor graphics without the need for an overlaminate, it simplifies and accelerates both the floor graphic production and application process. No required overlaminate also gives you the flexibility to print in a variety of formats.
Stable 90# layflat polycoated paper liner also streamlines the application process, and Trifecta® uses a universally removable adhesive for a fast, clean removal that leaves no residue or mess on the application surface.
Plus, Trifecta® is UL 410 slip resistant to help ensure maximum safety with indoor use. Compatible with wide format, UV offset and screen printing platforms, Trifecta® from Nekoosa helps you create flexible, reliable floor graphics that let vibrant colors and creative design take center stage.
Request your sample of Trifecta® one-step vinyl print media from Nekoosa today.