Wide & Grand Format Rolls

Offset, Screen, HP Indigo & Dry Toner Sheets

Offset, Screen, HP Indigo & Dry Toner Sheets

Cut Films

Application Tapes & Premasks

Carbonless Papers

Extruded Films

Applications

Printer Compatibility

About Us
X

Wide & Grand Format Rolls

Offset, Screen, HP Indigo & Dry Toner Sheets

Cut Films

Application Tapes & Premasks

Carbonless Papers

Extruded Films

Applications

Printer Compatibility

About Us
Which Floor Graphic Method is Right for You?
Posted by
Tianna Vanderhei, Nekoosa
on 3/3/21 7:00 AM
---
Floor graphics have always served as a beneficial, attention-grabbing application for advertising, protocol messaging and safety communications. However, over the course of the last year the importance of using floor graphics for health and safety messaging amidst the COVID-19 pandemic became more crucial than ever.
Social distancing graphics (SEE: COVID-19 Signage Solutions) are now a normal element of our everyday lives. They're installed in our businesses, retail areas, grocery stores and convenience shops - guiding our space and walking patterns in an effort to keep everyone safe. But which floor graphic method is right for you and your application? First, let's review Nekoosa's two floor graphic options:
Walk-On Graphics® - Two Component System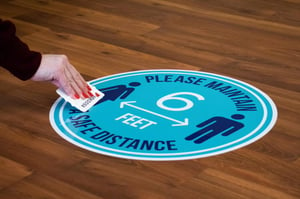 The Walk-On Graphics® two component system includes a printable vinyl base film and a UL 410 approved slip resistant overlaminate to create durable floor graphic applications. This slip resistant floor graphic system is recommended for use on smooth, clean, flat surfaces like tile, sealed wood, ceramic tile vinyl and sealed concrete - options also available for carpet applications.
Walk-On Graphics® 4 mil printable vinyl base film available in white or clear finishes with removable adhesive is suitable for indoor short term floor graphics <6 months.
The vinyl base film and overlaminates are available in standard 54"x50 yd. rolls for wide format printing. In addition, the Walk-On Graphics® are available in custom sheets and rolls for offset and screen printing available upon request. Print this material with latex, eco-solvent, true solvent, UV wide format, conventional offset, UV offset and/or UV screen inks.
Learn More About Walk-On Graphics® Installation and Removal HERE
Trifecta™ - One-Step Floor Graphic
Are you a single operation print shop? In need of a simpler solution for floor graphics? Try Trifecta™!
This multipurpose removable pressure sensitive textured vinyl is one product with endless applications; including, but not limited to one-step floor graphics, social distancing floor graphics, floor advertisements, wall graphics, window signage, counter mats, posters, wall décor, wayward signage, directional arrows, one-way window graphics and point-of-purchase signage.
Print this material with eco-solvent, true solvent, latex, UV wide format, screen or UV offset inks.
This 6 mil semi-rigid matte white textured facestock is suitable for shot-term indoor floor graphics for < 6 months. Trifecta™ is a high opacity film with an excellent whitepoint and its UL 410 slip resistant certified. Still questioning if Trifecta™ is the right substrate for your floor application? Check out our YouTube video below to learn more about our newest substrate! Create floor, wall and window graphics with one universal media…Trifecta™.
When to Use Walk-On Graphics vs. Trifecta
Trying to decide when it's best to use Walk-On Graphics® vs. Trifecta™? First off, it's important to focus on your intended application in order to decipher what substrate is best for the application at hand. For instance, is extra durability required? In that case, we recommend using Walk-On Graphics®. The two-component overlaminate will provide a bit of extra durability to the floor graphic. Are you a printer without a laminator on hand? Not a problem! Use Trifecta™ as a one-step option that doesn't require lamination.
Perhaps you're creating graphics for a campaign and want every piece to be printed on a similar substrate...in that case, Trifecta™ is going to be the optimal choice for your printing and communication needs. In addition, if you are looking for a quick turn around, its recommended you go with Trifecta™ over Walk-On Graphics® due to its versatility in not needing to go through lamination; thus, eliminating a step in the printing process.
Planning out your messaging and intended application as it relates to the surface area and required duration will hopefully help guide you in ultimately deciding which of our Nekoosa floor graphic substrates is right for the job at hand. If you would like to compare both materials for yourself or test them out, email our sample room for a FREE sample.