Waterproof Synthetic Paper

P.O.P. Displays, Banner Stands & General Signage

P.O.P. Displays, Banner Stands & General Signage

Window, Wall & Floor Graphics

Window, Wall & Floor Graphics

Cut Films

Application Tapes & Premasks

Carbonless Papers

Extruded Films

Applications

Printer Compatibility

Sustainability

About Us
X

Waterproof Synthetic Paper

P.O.P. Displays, Banner Stands & General Signage

Window, Wall & Floor Graphics

Cut Films

Application Tapes & Premasks

Carbonless Papers

Extruded Films

Applications

Printer Compatibility

Sustainability

About Us
COVID-19 Signage Solutions
Posted by
Nekoosa
on 1/13/21 7:00 AM
---
As society continues to adapt to the COVID-19 pandemic, the print industry simultaneously continues to play an instrumental role in social distancing, health and safety signage. Whether it be directional floor arrows, social distancing markers, mask reminders or health communications, printed materials are key in keeping essential businesses safe and open.
Why is COVID-19 Health and Safety Signage so Important?
It provides businesses with a way to keep both employees and customers up-to-date on the recommended social distancing and health and safety measures put in place by the Centers for Disease Control and Prevention (CDC) and the World Health Organization (WHO). In turn, creating, printing and installing signage in some capacity helps to limit the spread of the disease while ensuring everyone stays informed.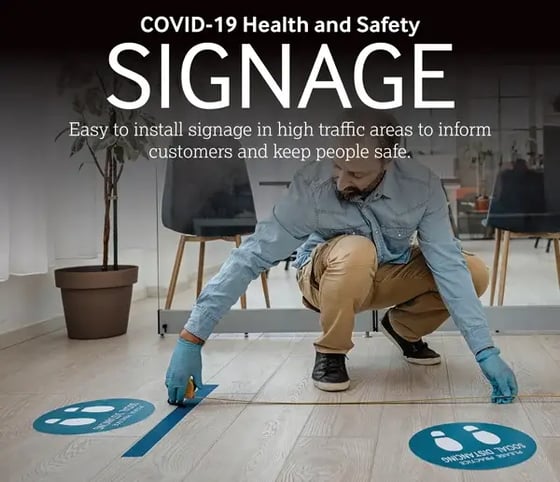 What Substrates are Ideal for COVID-19 Signage?
For more information on substrates for COVID-19 Signage, Click HERE.