Wide & Grand Format Rolls

Offset, Screen, HP Indigo & Dry Toner Sheets

Offset, Screen, HP Indigo & Dry Toner Sheets

Cut Films

Application Tapes & Premasks

Carbonless Papers

Extruded Films

Applications

Printer Compatibility

About Us
X

Wide & Grand Format Rolls

Offset, Screen, HP Indigo & Dry Toner Sheets

Cut Films

Application Tapes & Premasks

Carbonless Papers

Extruded Films

Applications

Printer Compatibility

About Us
Ztac™ Ultra Low-Tack, Polyester Film
Posted by
Tianna Vanderhei, Nekoosa
on 7/7/21 12:00 AM
---
Designed for easy application and removal from smooth indoor surfaces such as polished stone, stainless steel and glass, Ztac™ polyester film is ideal for temporary indoor marketing applications. This repositionable film will hold its original shape without 'dog earring' even after moving it around multiple times.
What is Ztac™?
Ztac™ is an ultra-low tack polyester film that is available in three grades, compatible with UV wide format, offset and HP Indigo inks. This polyester film can be die-cut and kiss-cut. Available in white and clear folio sheets, digital cut size sheets or wide format rolls, Ztac™ is manufactured in a variety of forms to best fit your printing capabilities and needs.

What Applications is Ztac™ used for?
Ztac™ is part of Nekoosa's Effortless Signage portfolio. What does this mean? It is effortless to apply, remove and reposition without leaving a trace of residue behind. This characteristic makes it ideal for in-store promotional signage, large format graphics, tileable murals, P.O.P. signage, reverse sided graphics, trade show and event signage, window graphics and so much more. The ease of installation makes Ztac™ ideal for novice installers and national campaigns to ensure a guaranteed option for window signage that presents a clean and consistent message at every store location. In addition, Ztac™ is a great tileable piece because it allows sheet printers a chance at applications that they may otherwise have to pass up on.
One unique quality of Ztac™ is that it can be applied to extremely hot or cold surfaces. That's right, you can easily print and utilize this film for hot deli glass case signage – think a coffee shop, restaurant or even a convenience store. Ztac™ also works great for extremely cold surfaces such as a glass freezer or cooler doors. Please note, the surface temperature when applied needs to be around 40 degrees. Once it is adhered it can go from as low as 0 to 150 degrees.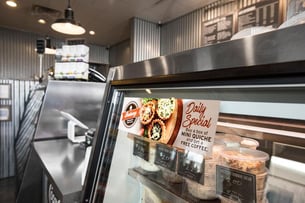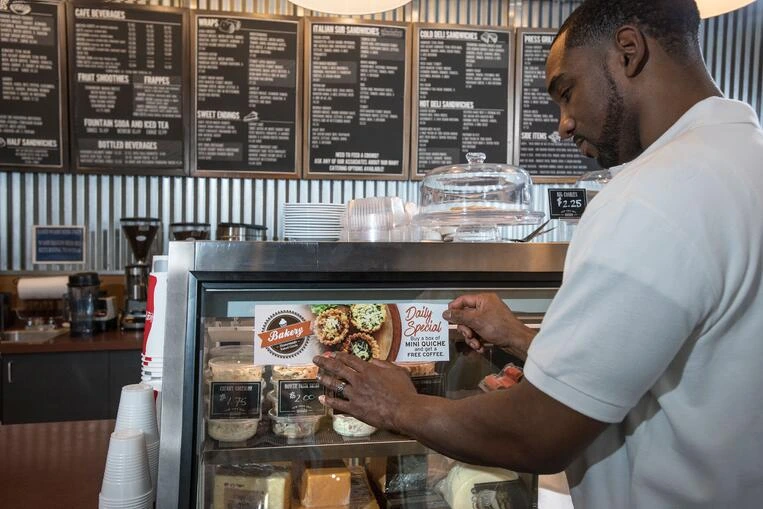 Is Ztac™ Recyclable?
Yes. Ztac™ is recyclable as a #1 plastic. In addition, it's chemically inert and PVC and phthalate-free.
How Can I Order a Sample?
Request a free sample sleeve of Ztac™ directly on our website. Just click here to be directed to the Ztac™ product page, scroll down and click "Request Sample" on the desired product SKU(s). Then click in the upper right hand corner of your screen to be directed to your cart, fill in your information and click "Submit." You can also request samples by sending an email to samples@nekoosa.com and specifying the product you are interested in