Wide & Grand Format Rolls

Offset, Screen, HP Indigo & Dry Toner

Offset, Screen, HP Indigo & Dry Toner

Cut Films

Application Tapes & Premasks

Application Tapes & Premasks

Carbonless Papers

Extruded Films

Applications

Printer Compatibility

About Us
X

Wide & Grand Format Rolls

Offset, Screen, HP Indigo & Dry Toner

Cut Films

Application Tapes & Premasks

Carbonless Papers

Extruded Films

Applications

Printer Compatibility

About Us
Uses for ClingZ®, Electrically Charged Graphic Film
Posted by
Nekoosa
on 6/10/20 3:47 PM
---
Looking for a substrate that can be applied to a wide spectrum of surfaces? Like painted walls, wood paneling, concrete, glass, stainless and even brick? ClingZ® is the solution.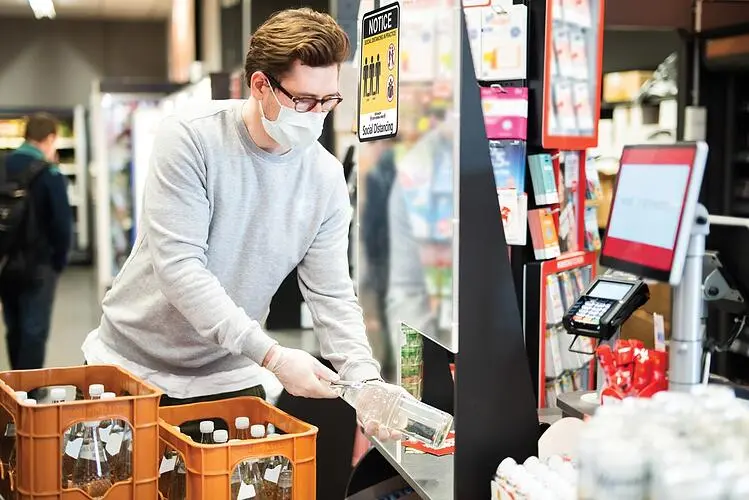 This adhesive-free, electrically charged graphic film adheres to any dry interior surface. Plus, it's chemically inert and PVC-free, phthalate-free and recyclable. During this time when temporary, repositionable signage is needed now more than ever, ClingZ® provides a substrate option that is effortless to apply, remove and reposition without leaving behind any damage to the surface in which it is adhered to. Pictured left, ClingZ® can be used for sneeze guard shield signage in grocery stores, banks, restaurants, hospitals and other business settings for heightened social distance and health communications.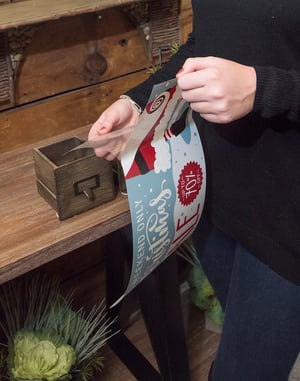 Aaron Bares, Business Development Manager at Nekoosa, says he likes its versatility. "If you have a campaign across many stores with different layouts it will stick to any surface. I also like that it can easily be put up and taken down by individuals of various ages and skill levels, and in many cases you can also place the product printed side against glass. It is unique and different from all other pressure sensitive and cling products in the market."

"It's a unique, one-of-a-kind product in the market," adds Scott Bell, Business Development Manager, "It has a multi-platform printability by HP Indigo, offset, or UV wide format and its ease of use like no other product."
Common Applications for ClingZ:
Pharmaceutical Posters – Most widely used in the pharmaceutical industry for medication posters and advertisements, ClingZ is perfect for hospitals and clinics. Why? Hospitals and clinics do not want to introduce new chemicals from adhesives into their facility, so ClingZ is the best solution to maintain a clean environment.
Retail Screen Safe Labels – ClingZ is a chemically inert substrate. Not to mention, its gentle on any indoor surface...even screens! Yup, you read that right, retailers use ClingZ for advertisements on TV screens, computer monitors and appliances. The material will not damage the most delicate surfaces, allowing consumers to feel good about buying models right off the show floor without any leftover residue or markings.

Event Signage

(conventions, hotels, universities, etc.) – Need to switch out temporary, event signage in order to communicate varying locations, times and activities? No problem! ClingZ can be applied, removed and repositioned with ease. In addition, it requires minimal time for application. Simply peel back the liner and smooth it onto the flat or curved surface you want it to be applied to (yes, it can even curved posts or pillars within an entertainment venue or arena).
Are you a hotel hosting a convention? We understand that many hotels don't want anything with adhesive for temporary applications on their walls and ClingZ is easy to put up and take down. The same idea applies to universities and schools when a new academic year starts and students are learning about the events on campus, music concerts and one day events.
Retail Signage – New products coming soon? A temporary sale on a specific item? ClingZ allows for short-term, retail signage. Print your messaging on ClingZ and place it any where in the store. Once it is applied, simply cover the coming soon with available now and save on the second print for a whole new poster!
COVID-19 – Right now, ClingZ's versatility and adhesive-free nature make it a go-to effortless signage option for social distance signage and health communications surrounding the COVID-19 pandemic.
Other applications include, but are not limited to: in-store promotional signage, large format graphics, tileable murals, P.O.P. signage, holiday décor and decals, reverse sided graphics, window graphics guerrilla marketing and dry erasable posters.

No squeegees or wet applications necessary!

Request a FREE sample of ClingZ today by emailing samples@nekoosa.com