Waterproof Synthetic Paper

P.O.P. Displays, Banner Stands & General Signage

P.O.P. Displays, Banner Stands & General Signage

Window, Wall & Floor Graphics

Window, Wall & Floor Graphics

Cut Films

Application Tapes & Premasks

Carbonless Papers

Extruded Films

Applications

Printer Compatibility

Sustainability

About Us
X

Waterproof Synthetic Paper

P.O.P. Displays, Banner Stands & General Signage

Window, Wall & Floor Graphics

Cut Films

Application Tapes & Premasks

Carbonless Papers

Extruded Films

Applications

Printer Compatibility

Sustainability

About Us
Understanding the Value of SYNAPS XM Antimicrobial Paper
Posted by
Nekoosa
on 2/16/22 9:00 AM
---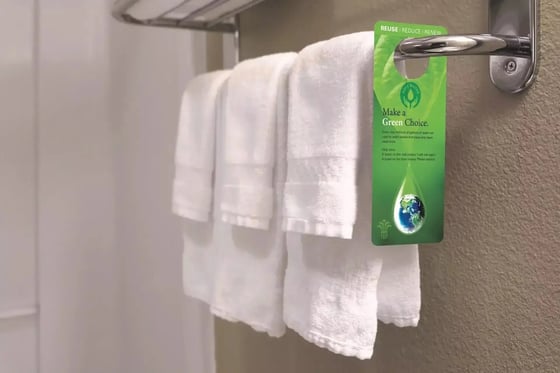 The last two years have certainly increased the emphasis businesses — not to mention the population at large — place on cleanliness and sanitation, particularly when it comes to high-touch or high-traffic segments of the marketplace such as retail and hospitality. Even as the global events of the last couple years fluctuate or wane, it's safe to say the focus on hygiene in these industries will remain for the long-term future, which presents a significant challenge for businesses in creating dynamic, hygienic printed pieces.
The challenge? A durable synthetic paper solution that both provides superior print and creative capabilities compared to traditional lamination and can protect against the growth of harmful bacteria.
The solution? SYNAPS XM antimicrobial paper from Nekoosa answers the call by combining the field-proven print flexibility and creative capability of our standard SYNAPS XM line with a powerful antimicrobial coating designed for superior protection and cleanliness.
How does SYNAPS XM antimicrobial synthetic paper combat bacterial and viral accumulation? Does SYNAPS XM antimicrobial synthetic paper require additional cleaning? Does SYNAPS antimicrobial paper work with the same printing platforms as the traditional SYNAPS XM line?
For a better understanding of this game-changing synthetic paper solution, let's examine a handful of common questions about SYNAPS XM antimicrobial paper to better understand its value for both businesses and their customers.
How does SYNAPS XM antimicrobial paper work?
The SYNAPS XM antimicrobial film uses silver ion technology commonly found in the medical field for a colorless, odorless coating of protection on the printed application. This coating agent is ISO 20743:2013 and ISO 18184:2019 certified for antibacterial and antiviral protection and works on areas of paper with 100% toner coverage. With a 99% effectiveness rate against the buildup of bacteria, virus, fungi and molds, SYNAPS XM antimicrobial synthetic paper provides peace of mind for industries that use frequently touched printed pieces by significantly limiting the growth of microbial agents. reducing the spread of microbial agents.
In addition, SYNAPS XM antimicrobial paper retains the waterproof, tear proof and weather resistant qualities of the traditional SYNAPS XM line for use in both indoor and outdoor environments, which only increases the variety of applications.
Does SYNAPS XM antimicrobial paper require additional cleaning?
In what is perhaps the most important value proposition for businesses in increasing the hygienic nature of their printed piece SYNAPS XM antimicrobial paper does not require additional cleaning agents or processes to reach the 99% effectiveness rate in combating antimicrobial buildup. Traditional cleaning methods that remove dust, grease or other common particle accumulation are recommended to help ensure SYNAPS XM antimicrobial paper maintains its superior visual appeal, but it is not required to ensure antimicrobial protection.
Does SYNAPS XM antimicrobial paper provide the same print platform capability as the standard SYNAPS XM paper?
Just like our SYNAPS XM synthetic paper, the antimicrobial version is compatible with digital dry and toner print platforms and is available in a variety of sizes including 5, 8, 10, 12 and 14 mil digital cut sized sheets. In addition, SYNAPS XM antimicrobial paper also maintains superior dimensional stability for precise registration, double-sided matte finish, and is designed for use with pencil, ballpoint pen or marker. In terms of a simplified printing process, the XM antimicrobial line also includes our standard antistatic top coating to help ensure strong toner adhesion and smooth feeding through the printing platform.
What are the ideal applications for SYNAPS XM antimicrobial paper?
Industries like retail and hospitality are ideal for SYNAPS XM antimicrobial paper given the high-traffic, high-touch and volume of human contact that is part and parcel of these markets. However, there are a number of specific applications that are well-suited for the high degrees of bacterial and viral protection the SYNAPS XM antimicrobial paper line provides, including:
Menus
Manuals & catalogs
Hole punched tags
Shelf talkers & wobblers
Aisle invaders
Direct mail
Plant stakes
Door hangers
Recipe cards
In addition, SYNAPS XM antimicrobial paper can also be used in educational environments like schools and universities along with healthcare or medical facilities.
Experience the superior antimicrobial protection and unparalleled quality and request a sample of SYNAPS XM antimicrobial paper from Nekoosa.