Wide & Grand Format Rolls

Offset, Screen, HP Indigo & Dry Toner Sheets

Offset, Screen, HP Indigo & Dry Toner Sheets

Cut Films

Application Tapes & Premasks

Carbonless Papers

Extruded Films

Applications

Printer Compatibility

About Us
X

Wide & Grand Format Rolls

Offset, Screen, HP Indigo & Dry Toner Sheets

Cut Films

Application Tapes & Premasks

Carbonless Papers

Extruded Films

Applications

Printer Compatibility

About Us
The Difference Between Chalkboard Vinyl and Dry Erase Boards
Posted by
Nekoosa
on 1/10/22 9:00 AM
---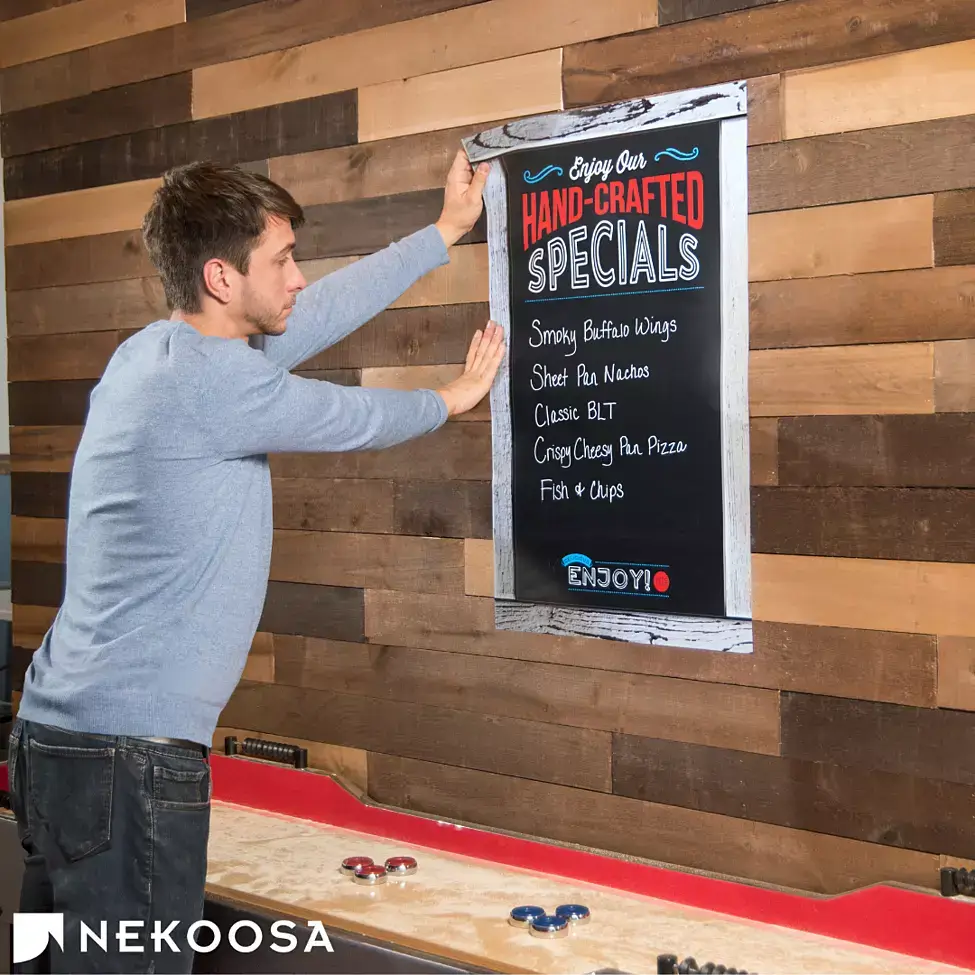 When two things appear similar on the surface, it's easy to assume they're similar on all levels and put them in the same metaphorical box or under the same categorical umbrella. For example, look at a spatula and a turner: both utensils are essentially flat with an elongated handle and can be used to flip foods like burgers or grilled cheese sandwiches. However, upon closer inspection, you'll notice a spatula has a blunt side and a bladed side for use in baking applications whereas a turner is flat all the way around and is actually ideal for simple turning of foods on a grill or frying pan.
The same is true for chalkboard vinyl and dry erase boards. While from a distance they look amazingly similar in their construction, how they're used and the creative potential they provide businesses or organizations, there are in fact a number of subtle yet critical differences that separate the two and make chalkboard vinyl a more dynamic, customizable solution for a wider array of industry application and uses.
The good news for you is that we have the information and insight you need to understand the difference between chalkboard vinyl and dry erase boards. Let's examine a handful of the differences between the two to help you make the best choice for your application needs.
Durability and versatility of use
Perhaps the biggest or most important difference between chalkboard vinyl and dry erase boards is the durability and versatility of chalkboard vinyl compared to its counterpart. Whereas dry erase boards are easily influenced by environmental elements like wind, rain, dust or other factors, chalkboard vinyl is specifically designed for use in both indoor and outdoor settings.
In particular, ChalkTalk® by Nekoosa leverages 5 mil textured matte black chalkboard vinyl facestock to protect signage against naturally occurring or manmade contaminants that easily compromise dry erase signage.
This high degree of durability and ease of integration for indoor and outdoor settings make ChalkTalk ideal for use in the restaurant, retail or grocery industry where essential signage is key in a dual-environment capacity.
Ceiling for creativity
In terms of creating visually engaging signage that can incorporate image, text and other design elements to make a lasting or meaningful impression, dry erase boards have a very defined ceiling. While the markers commonly used on dry erase boards do come in a variety of colors or styles, there's very little else a user can incorporate to help make signage truly stand out in a crowd.
Chalkboard vinyl's capacity for integration with print solutions provides the user with a wider palette and a greater opportunity for creativity and resonance. ChalkTalk is compatible with both wide-format and screen printing platforms to help create vibrant visual and textual elements that, as we now know, can thrive in both indoor and outdoor use. In addition, ChalkTalk is ideal for use with liquid chalk ink pens that further helps promote creativity through superior workability.
Simple, efficient cleaning
The term dry erase board implies mess-free cleaning, but in fact erasing or altering text or images on a dry erase board can result in unseemly smudges, smearing or residue. However, chalkboard vinyl and its removable adhesive provides simple, efficient cleaning processes both indoors and outdoors without compromising durability. In addition, ChalkTalk from Nekoosa doubles down on user-friendly cleaning procedures via wipedown with a damp cloth for streamlined, error-free text or image changes.
Variety of surface applications
When it comes to surface applications or the ability to integrate signage onto wall construction material, dry erase boards have significant limitations. While affixing dry erase boards to basic wall material or surfaces like drywall is a relatively simple, quick process, chalkboard vinyl allows users to create unique, vibrant signage on surface applications that extend far beyond drywall. ChalkTalk can be seamlessly applied to surfaces like wood paneling, stainless steel, textured painted walls and more, and allows for the widest scope of use and integration for indoor, outdoor or hybrid retail spaces.
Available in both 24"x75 ft. and 54"x75 ft. wide format rolls and custom roll sizes offers unmatched versatility and creativity for users to leverage effective signage solutions to help you meet your business goals.
Designed and manufactured in the U.S.A., ChalkTalk® from Nekoosa is the chalkboard vinyl of choice for applications where creativity is prized and flexibility is key. Learn more about ChalkTalk or request a sample sleeve today.