Waterproof Synthetic Paper

P.O.P. Displays, Banner Stands & General Signage

P.O.P. Displays, Banner Stands & General Signage

Window, Wall & Floor Graphics

Window, Wall & Floor Graphics

Cut Films

Application Tapes & Premasks

Carbonless Papers

Extruded Films

Applications

Printer Compatibility

Sustainability

About Us
X

Waterproof Synthetic Paper

P.O.P. Displays, Banner Stands & General Signage

Window, Wall & Floor Graphics

Cut Films

Application Tapes & Premasks

Carbonless Papers

Extruded Films

Applications

Printer Compatibility

Sustainability

About Us
New! The Best Applications for Trifecta™ Universal Removable Vinyl
Posted by
Nekoosa
on 10/15/20 7:23 AM
---
Nekoosa is excited to launch Trifecta™, a new multipurpose pressure sensitive vinyl used for one-step floor, wall and window graphic applications. Made in the U.S.A., Trifecta™ is a 6 mil universal removable matte white textured pressure sensitive vinyl. This high opacity film is UL 410 Slip Resistance Certified and has an excellent white point and a universal removable adhesive suitable for short-term applications. Trifecta™ will cleanly remove from indoor and outdoor application surfaces for up to 6 months. Trifecta™ also has a stable 90# layflat polycoated paper liner for ease of printing and installation to meet all your short-term graphics needs; especially perfect now for social distancing signage amidst COVID-19.
Trifecta™ One-Step Floor Graphics - You can create UL 410 slip resistant floor graphics in one easy step … no overlaminate is required. Easy to install and remove, Trifecta™ is best suited for indoor short-term floor graphics (<6 months) and is not intended for outdoor floor graphic applications.
Trifecta™ Wall Graphics - Great for hassle-free textured wall decals...just peel, stick and done! No need for tapes, tacks or nails and will remove cleanly from painted drywall.
Trifecta™ Window Decals - Ideally suited for short-term decorative window decals smaller than 2' x 2'.The dimensional, textured finish of Trifecta™ vinyl media beautifully enhances the look of window signage.
Robert Rundle, Director of Technical Sales and Business Development at Nekoosa said, "Having one film that works well on three common surfaces and doesn't need a laminate or premask to apply makes Trifecta™ a go-to product for most P.O.P. projects."
Trifecta™ is compatible with Eco-Solvent, True Solvent, Latex, UV Wide Format, Screen and UV Offset inks.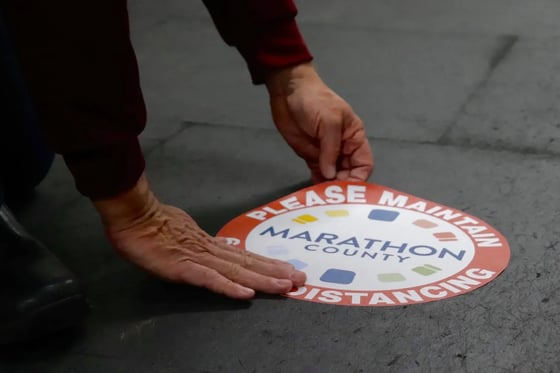 Want to learn more about Trifecta™ or order a FREE sample roll for yourself? Click here.