Waterproof Synthetic Paper

P.O.P. Displays, Banner Stands & General Signage

P.O.P. Displays, Banner Stands & General Signage

Window, Wall & Floor Graphics

Window, Wall & Floor Graphics

Cut Films

Application Tapes & Premasks

Carbonless Papers

Extruded Films

Applications

Printer Compatibility

Sustainability

About Us
X

Waterproof Synthetic Paper

P.O.P. Displays, Banner Stands & General Signage

Window, Wall & Floor Graphics

Cut Films

Application Tapes & Premasks

Carbonless Papers

Extruded Films

Applications

Printer Compatibility

Sustainability

About Us
SYNAPS XM - A Superior Alternative to Traditional Lamination
Posted by
Laura Slovensky
on 11/18/20 10:30 AM
---
Have you ever tried to laminate a document with a standard pouch laminator? I was asked to laminate indoor directional signage on the first day of my college internship… to keep a long story short, I failed miserably. Things did not line up properly, the signs came out wrinkled and the room started to smell like burnt plastic. While I know that 'operator error' was 100% to blame, I was happy to learn of an alternative to traditional lamination once I started working at Nekoosa.
SYNAPS XM is a durable synthetic polyester paper that is completely waterproof, tear-proof and weather resistant, that is compatible with digital dry toner/laser printers. It is used for many applications that commonly get laminated such as menus, reference documents, maps, training manuals, signage and ID cards. Here are the reasons why I recommend using SYNAPS XM to produce these types of applications.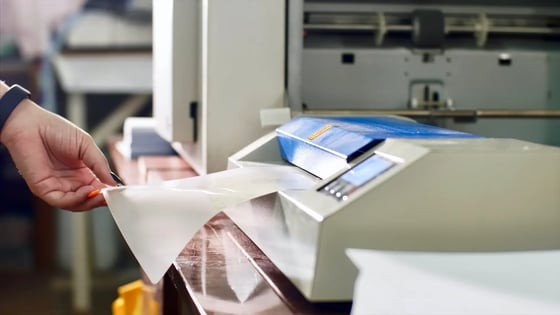 Durability – Laminated pieces tend to lose their shape over a short period of time and after minimal handling. They delaminate, warp, split along the edges and separate in the corners. Because SYNAPS XM is made of a strong polyester base stock, applications will hold their shape, lay flat and continue to look professional even after multiple uses. SYNAPS XM is also completely waterproof so it can be cleaned and submerged in water, making it a great choice for restaurant menus. Click here to learn more about cleaning SYNAPS XM.
Less Waste – I mentioned that my signs got wrinkles right away in the process… I kept trying over and over again until I got it right, wasting numerous lamination pouches and reprinted pieces of paper in the process. Those signs went right into the trash, and ultimately into a landfill. Even if I created a flawless sign on the first go around, I still consumed two times the resources than if I would have solely used SYNAPS XM the first time.
Efficiency – If you are currently laminating, you are likely laminating pieces that come off your digital printer. Why buy an additional lamination machine, laminating materials and rotary trimmers when SYNAPS XM can easily run through most digital dry toner/laser printers? 100 8.5"x11" documents will print in about five minutes, while it would take over an hour to print and laminate the same amount. What else could you be doing with those precious 55 minutes of your time, and why not avoid spending money on extra supplies? Click here to see if SYNAPS XM is compatible with your digital dry toner/laser printer.
Choosing SYNAPS XM for your next project will hopefully save you some of the hassle that I went through. If you would like to see the difference for yourself, email our sample room for a fan-out sample book comparing paper, laminated paper and SYNAPS XM printed food truck menus.