Wide & Grand Format Rolls

Offset, Screen, HP Indigo & Dry Toner Sheets

Offset, Screen, HP Indigo & Dry Toner Sheets

Cut Films

Application Tapes & Premasks

Carbonless Papers

Extruded Films

Applications

Printer Compatibility

About Us
X

Wide & Grand Format Rolls

Offset, Screen, HP Indigo & Dry Toner Sheets

Cut Films

Application Tapes & Premasks

Carbonless Papers

Extruded Films

Applications

Printer Compatibility

About Us
Protecting VinylEfx® Graphics with Urethane Clear Coat
Posted by
Jim Hingst
on 8/11/14 8:00 AM
---
Airbrush artist, Jimmy Jackson of Myrtle Beach, South Carolina, has used VinylEfx® films in his motorcycle designs for many years. In all of that time, he has never experienced a graphics failure. How does he do it?
In the photograph shown below, Jimmy first painted the ghost flames as the background. Then he applied this tribal design which he created using a VinylEfx® film. After pin striping the outline around the film, he protected his artwork with four coats of a urethane clear coat.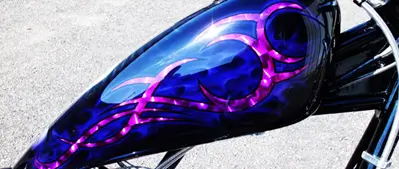 Quick Product Facts about VinylEfx®:
Available in both Indoor Decorative and Outdoor Durable series (<3 years outdoor) with permanent adhesive
Easy application to flat, smooth surfaces - dry application only
Cuts and weeds easily
Apply cut letters with

RTape

Conform® 4075 RLA® and printed graphics with

RTape

Conform® 4760 RLA® application tape
Allow for 1/8"-1/4" border around the edge of printed graphics
Overlaminates can be used if extra protection is required
Available in a variety of colors/patterns and standard roll sizes
Made in the U.S.A.
Since each paint system is different, test the compatibility of the film with the clear coat prior to using it on a job. You can request a sample of VinylEfx® from your distributor or you can click here to request a sample directly from us. As we like to tell people...test, don't guess.