Wide & Grand Format Rolls

Offset, Screen, HP Indigo & Dry Toner Sheets

Offset, Screen, HP Indigo & Dry Toner Sheets

Cut Films

Application Tapes & Premasks

Carbonless Papers

Extruded Films

Applications

Printer Compatibility

About Us
X

Wide & Grand Format Rolls

Offset, Screen, HP Indigo & Dry Toner Sheets

Cut Films

Application Tapes & Premasks

Carbonless Papers

Extruded Films

Applications

Printer Compatibility

About Us
Pressure Sensitive Premium and Classic Vinyls - What You Need to Know
Posted by
Nekoosa
on 2/10/21 7:00 AM
---
When searching for and selecting pressure sensitive vinyls, it's important to understand the application variables for which it will be exposed to and the performance that will be expected such as duration, appearance, durability, removability, etc.
What Is A Pressure Sensitive Vinyl?
Simply put, a pressure sensitive vinyl (PSV) is a vinyl that has adhesive applied to the back and rides on a liner until it is applied to hard, smooth surfaces through gentle applied pressure. The adhesive is available in varying tack levels from permanent to low tack removable. It's a "sticker" on a paper liner.
Nekoosa's Offering
Nekoosa offers both Premium and Classic Vinyl options. Premium is a calendared high performance vinyl with an expected 5 year durability rating whereas Classic is a general use vinyl with a 3 year durability rating. Both of these vinyls are available with permanent and removable options as well as various liner options and gloss or matte finishes. Featured Application - see the golf cart application pictured below for an example of Premium Vinyl in application to an exterior surface.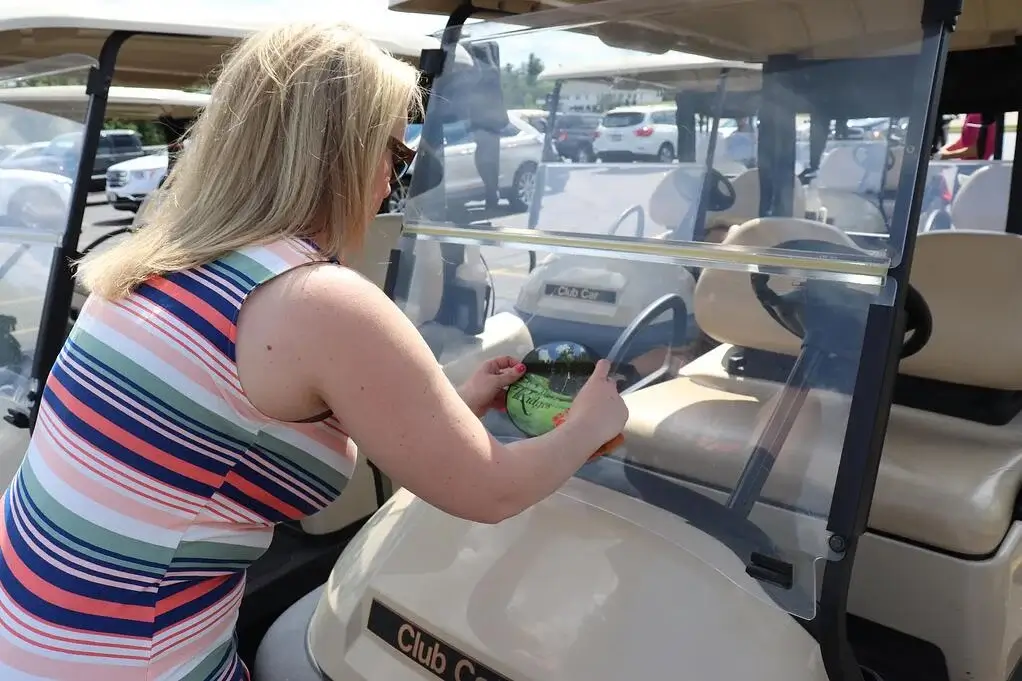 Like Premium Vinyl, Classic Vinyl also has an air-egress liner option available with a gray block-out adhesive in permanent or removable adhesive.
Differences Between Premium and Classic Vinyl
Outdoor durability is a key difference when it comes to comparing Premium and Classic Vinyl. Classic vinyl is suitable for indoor and outdoor applications <3 years, while Premium Vinyl has an extended durability rating of <5 years.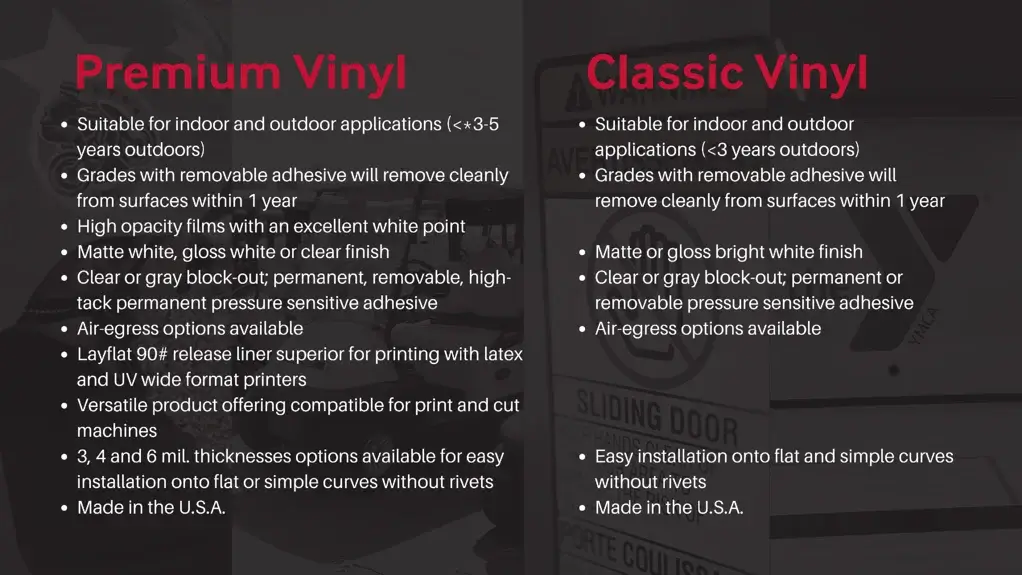 Applying Premium and Classic Vinyl
When applying any vinyl or specialty print media substrate, it's important that you first ensure your surface area is clean of any debris or dirt. Then, ensure a +50° F application temperature. For lower application temperature requirements, ask your Nekoosa representative about our other specialty print media.
The water resistance of these pressure sensitive vinyls is excellent. For those with removable adhesive, expect clean removability within one year. Film thicknesses range from 3 mil to 6 mil allowing for varying durability and workability. These are calendared vinyls and will perform well on smooth simple curves…NOT recommended for applications with rivets such as side panels of trucks.
Applications
Applications include, but are not limited to: banner graphics, cut lettering, decals, point-of-purchase signage, bumper stickers, fleet markings, name plates and in-store promotions. Both Premium Vinyl and Classic Vinyl are compatible with: latex, UV inkjet, eco-solvent, true solvent, conventional offset, UV offset and screen inks.