Wide & Grand Format Rolls

Offset, Screen, HP Indigo & Dry Toner Sheets

Offset, Screen, HP Indigo & Dry Toner Sheets

Cut Films

Application Tapes & Premasks

Carbonless Papers

Extruded Films

Applications

Printer Compatibility

About Us
X

Wide & Grand Format Rolls

Offset, Screen, HP Indigo & Dry Toner Sheets

Cut Films

Application Tapes & Premasks

Carbonless Papers

Extruded Films

Applications

Printer Compatibility

About Us
Nekoosa Bucks Now Offered in Wide Format Portfolio
Posted by
Nekoosa
on 7/13/20 8:00 AM
---
Nekoosa Bucks is a customer loyalty program designed to thank you, our printers and end-users, for using Nekoosa products. Previously, Nekoosa Bucks were solely found within select cartons of carbonless paper. As our product offerings has expanded over the years with acquisitions (see, Our History) we are now excited to introduce our Nekoosa Bucks program into our wide format portfolio.
The Nekoosa Bucks program began about 15 years ago. The basis of the program is very simple, it rewards YOU with money in the form of gift cards, simply for using Nekoosa products. How neat is that? The carbonless products contain $1 codes and the wide format media products include $5 codes.
How does it work? Printers and end-users collect Nekoosa Bucks inside select cartons of carbonless paper and select wide format products and redeem them online for MasterCard gift cards. Users create a login account on the Nekoosa Bucks website and are then able to enter the eight-digit code found within select cartons. Users can redeem their earnings for gift cards once they collect at least $25 in Nekoosa Bucks. Through Nekoosa's online database, users can track their card orders and review their redemption history. For a complete overview of the redemption process, visit Nekoosa's YouTube channel and view our 'Nekoosa Bucks Reward Program Tutorial' video.
Here are some 'fast facts' about the Nekoosa Bucks program:
It runs year round - yes, 365 days a year!
Nekoosa Bucks are valid throughout the United States and Canada
Qualifying cartons will have a gold sticker adhered to the top right corner of the carton face/label
Customer Bonus Level - build redemption history with Nekoosa Bucks in order to achieve additional rewards. Note, gift card rewards are redeemable in $25 increments, up to $100.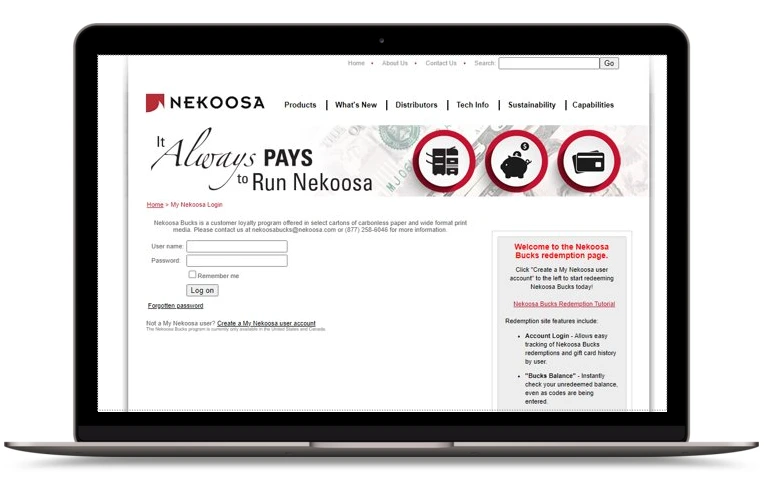 How do you create a Nekoosa Bucks account?
We've created an easy, step-by-step tutorial video for you to watch that takes you through the process. Watch it on our YouTube HERE!
Still have questions? Feel free to reach out to us at nekoosabucks@nekoosa.com or by calling (800) 826-4886. And remember, it always pays to run Nekoosa!