Waterproof Synthetic Paper

P.O.P. Displays, Banner Stands & General Signage

P.O.P. Displays, Banner Stands & General Signage

Window, Wall & Floor Graphics

Window, Wall & Floor Graphics

Cut Films

Application Tapes & Premasks

Carbonless Papers

Extruded Films

Applications

Printer Compatibility

Sustainability

About Us
X

Waterproof Synthetic Paper

P.O.P. Displays, Banner Stands & General Signage

Window, Wall & Floor Graphics

Cut Films

Application Tapes & Premasks

Carbonless Papers

Extruded Films

Applications

Printer Compatibility

Sustainability

About Us
Nekoosa Adds High-Peel Removable Options to Wall Graphics® Portfolio
Posted by
Nekoosa
on 8/6/20 6:00 AM
---
Nekoosa has added three new SKUs with two varying adhesive systems to the Wall Graphics® offering - an expanded microsphere removable, now in gloss white and a new, high-peel removable. Nekoosa's Wall Graphics® product portfolio is a comprehensive offering of repositionable, removable vinyl films for a wide range wall applications like wall decals, wall décor, point-of-purchase wall signage, renovation barricades, wayward signage, posters and textured wall graphics.
What's the difference between microsphere removable and high-peel removable?
Microsphere removable adhesive is best suited for application surfaces like smooth, flat painted walls, wall paper, wood paneling, polished stone, glass and stainless steel. Available in 4, 6 and 8 mil vinyl facestock options rated for up to one year of outdoor use, microsphere removable comes in matte white, gloss white or matte clear finishes with a 90# layflat polycoated paper liner. *Also available in Augusta matte white embossed finish.
High-peel removable adhesive allows for application to a broader range of surfaces like painted plywood, concrete, textured walls painted with low VOC paints. Available in a 6 mil, semi-rigid matte white vinyl facestock rated for up to six months of outdoor use. Options available with a 90# layflat or 90# air-egress layflat polycoated paper liner.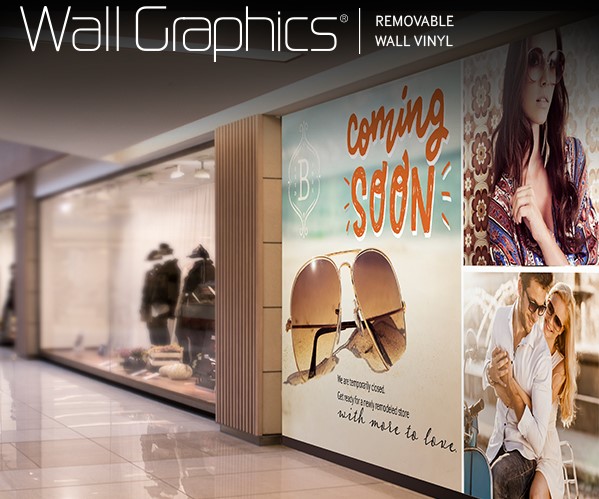 Fast facts about the Wall Graphics® product portfolio:
Available with a microsphere removable or high-peel removable adhesive
Effortless to install, remove and reposition - removes without leaving adhesive residue behind on the application surface
Suitable for short term indoor and outdoor applications (microsphere removable - up to 1 year clean removability from application surface, high-peel removable - up to 6 months clean removability from application surface)
Available in folio sheets, digital cut size sheets and wide format rolls
High opacity films have an excellent white point
Stable 90# layflat polycoated paper liner for ease of printing and installation.
Made in the U.S.A.
HP Indigo and HP Latex certified (microsphere grades only)
Compatible with HP Indigo, conventional and UV offset, latex, eco-solvent, solvent, UV wide format, screen inks.

Applications include, but are not limited to: Wall Decals, Wall Decor, Point-of-Purchase Wall Signage, Renovation Barricades, Wayward Signage, Posters and Textured Wall Graphics




For more information on the product portfolio and expansion, check out the Wall Graphics® page on our website.
To request a FREE sample, check out the new 'Request a Sample' feature on our website to add products to your cart and order with ease!