Wide & Grand Format Rolls

Offset, Screen, HP Indigo & Dry Toner Sheets

Offset, Screen, HP Indigo & Dry Toner Sheets

Cut Films

Application Tapes & Premasks

Carbonless Papers

Extruded Films

Applications

Printer Compatibility

About Us
X

Wide & Grand Format Rolls

Offset, Screen, HP Indigo & Dry Toner Sheets

Cut Films

Application Tapes & Premasks

Carbonless Papers

Extruded Films

Applications

Printer Compatibility

About Us
#MeetOurTeam - Lori Eriksson
Posted by
Tianna Vanderhei, Nekoosa
on 6/16/21 7:00 AM
---
Lori Eriksson is based out of our Nekoosa, Wisconsin office. She currently works as the Product Development Manager.
How long have you been/worked at Nekoosa?
I have been with Nekoosa since August 16, 2019.
What is your role with Nekoosa (i.e., what does your day-to-day look like)?
There is quite a bit of variety in my day-to-day work. I collaborate with operations to run trials and assist with process engineering on the coater. I interface with quality, customer service and sales to assist with responding to customer needs. This may be answering technical questions, investigating information on competitive products, troubleshooting customer issues, to name a few. Sometimes I even get to spend time in the lab making up coatings to find the next best innovation in carbonless for Nekoosa.
What do you like about working at Nekoosa? I like the variety in my day and having new challenges to work through to help us all succeed.
What is your favorite product Nekoosa manufactures?
Being from a paper background I have found it very interesting to learn about our film and synthetic products. ClingZ® and Ztac™ are my favorites from this perspective.
What do you like to do outside of work (hobbies, actives, etc.)?
It has been an interesting two years with moving to a new state and then having a lot of our outside activities shut down for my family. My children, Hannah (14) and Karl (10), have been troopers through it all, becoming members of the SPDY swim team at the YMCA and then transitioning to going on family bike rides and walks through the summer. Karl did get to participate in a Lacrosse mini-camp last August that was a great outlet for his energy. I usually spend a lot of time with the kids at the pool at the YMCA and assist with swim meets as an official. Some of my favorite swim meets to officiate are Special Olympics because you get to give awards to swimmers, not just DQ slips. My husband (Paul) and I have also enjoyed exploring portions of the Green Circle Trail on our bicycles and getting to know the area.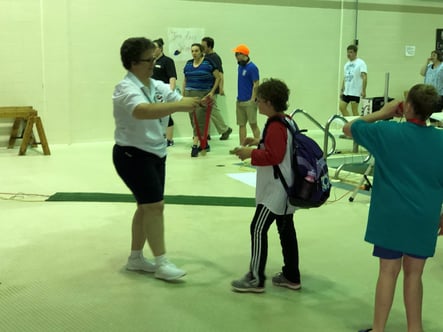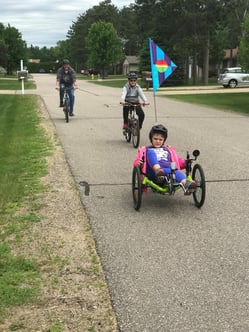 Lori presenting daughter (Hannah) with medal at Special Olympics Swim meet (left). Hannah, Karl, and Paul returning from bike ride Spring 2020 (right).