Waterproof Synthetic Paper

P.O.P. Displays, Banner Stands & General Signage

P.O.P. Displays, Banner Stands & General Signage

Window, Wall & Floor Graphics

Window, Wall & Floor Graphics

Cut Films

Application Tapes & Premasks

Carbonless Papers

Extruded Films

Applications

Printer Compatibility

Sustainability

About Us
X

Waterproof Synthetic Paper

P.O.P. Displays, Banner Stands & General Signage

Window, Wall & Floor Graphics

Cut Films

Application Tapes & Premasks

Carbonless Papers

Extruded Films

Applications

Printer Compatibility

Sustainability

About Us
#MeetOurTeam - Dan Garrity, Director of Sales West Region
Posted by
Tianna Vanderhei, Nekoosa
on 8/25/21 8:00 AM
---
A new month calls for a new #MeetOurTeam internal team member spotlight! Today's feature is on Dan Garrity, Director of Sales - West Region who has been with Nekoosa for more than thirteen years.

What is your role with Nekoosa (i.e., what does your day-to-day look like)? Growth, growth and growth. In my position as Director of Sales - West Region, I manage five Nekoosa Business Development Managers along with management level relationships with many of our top customers.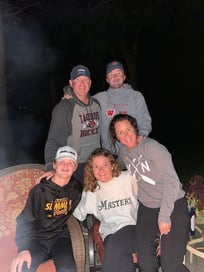 What do you like about working at Nekoosa?
One thing I really enjoy about working at Nekoosa is the fact that e
very
day is a new day! Nekoosa offers an entrepreneurial atmosphere where it rewards top performers in all facets. We truly are looked upon in the industry for "What's New" which is our company motto.
What is your favorite product Nekoosa manufactures? The recently released Trifecta® product. The versatility of the product and its applications make this fun to promote to our distributor partners and to the market for floors, windows and walls all in one. Not to mention, its textured semi-rigid matte white textured facestock rated for up to 5 years of outdoor use and doesn't require lamination. Making it a one-step substrate!
What do you like to do outside of work (hobbies, actives, etc.)? All things outside and competitive. Golfing, fishing, spending time at our cabin and of course hockey all centered around spending time with my family.