Wide & Grand Format Rolls

Offset, Screen, HP Indigo & Dry Toner Sheets

Offset, Screen, HP Indigo & Dry Toner Sheets

Cut Films

Application Tapes & Premasks

Carbonless Papers

Extruded Films

Applications

Printer Compatibility

About Us
X

Wide & Grand Format Rolls

Offset, Screen, HP Indigo & Dry Toner Sheets

Cut Films

Application Tapes & Premasks

Carbonless Papers

Extruded Films

Applications

Printer Compatibility

About Us
How to Use Pallet Protek Protection Tape
Posted by
Jim Hingst
on 8/28/12 8:00 AM
---
Cleaning up messy spray adhesive from your pallets is time both time consuming and costly. It's also unnecessary. By pre-covering your pallets with RTape 4350 Pallet Protek™ and spraying the paper tape instead of the pallet, press clean-up is simply a matter of removing and discarding the tape. The whole process is faster and easier if you follow the instructions below.
Cut a sheet of pallet protection tape large enough to cover the pallet as shown in photo #1. Using a squeegee, apply the tape to the platen of the screen print press. To save time, many printers will use the roll of pallet protection tape to burnish the sheet to the platen, rolling it over the surface.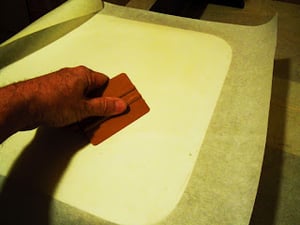 After applying the pallet protection tape to the platen, trim the excess using a utility knife. See the photo below.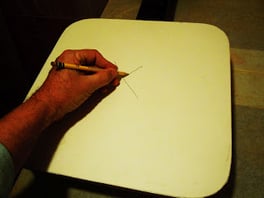 One way to save time and increase shop productivity is to apply several layers of the RTape Pallet Protek™ 4350 tape to a pallet. When you need a clean sheet of pallet protection tape, just pull off the top layer. Before applying the additional layers of tape, mark the base layer with a large "X" as shown in the photo below. This will alert you that you need to reapply additional layers.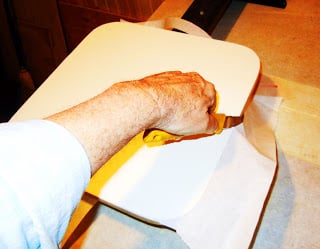 For more information about Nekoosa's other tapes, check out the RTape Application Tapes & Premasks page on our website.