Waterproof Synthetic Paper

P.O.P. Displays, Banner Stands & General Signage

P.O.P. Displays, Banner Stands & General Signage

Window, Wall & Floor Graphics

Window, Wall & Floor Graphics

Cut Films

Application Tapes & Premasks

Carbonless Papers

Extruded Films

Applications

Printer Compatibility

Sustainability

About Us
X

Waterproof Synthetic Paper

P.O.P. Displays, Banner Stands & General Signage

Window, Wall & Floor Graphics

Cut Films

Application Tapes & Premasks

Carbonless Papers

Extruded Films

Applications

Printer Compatibility

Sustainability

About Us
How to Enhance Your Office Space with Privacy and Decorative Commercial Window Films
Posted by
Nekoosa
on 9/12/23 10:15 AM
---
When customizing a commercial space such as a conference room, office building, lobby or storefront, it's important to create a thoughtful atmosphere that will positively impact all of those who experience it.

Specifically, windows play a crucial role in any space and can help achieve key design elements such as functionality, privacy, ambiance, unity and color. You can create each unique design element with Nekoosa Glass Finishes™ privacy and decorative commercial window films.
Nekoosa Glass Finishes™ offers a wide range of printable and plottable commercial window films designed to transform the appearance of interior and exterior commercial buildings for privacy and finishing purposes. Available in Deep Etch, Light Etch, Dusted Crystal, Frost, Sand Blast and Sand Matte finishes, the key difference between each commercial window film is the percentage of light transmission, meaning some offer more privacy than others. The higher the percentage, the clearer the film. Here is an ordered list from most amount of light transmission, to least:
Frost: 73%​ least amount of privacy
Dusted Crystal: 73%​
Light Etch: 56%​
Sand Blast: 48%​
Deep Etch: 44%​
Sand Matte: 19% most amount of privacy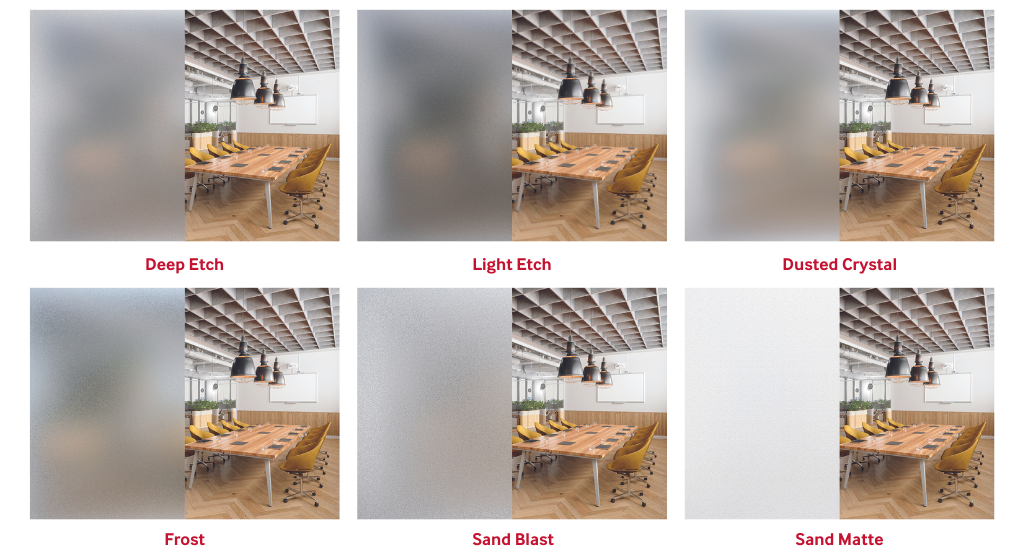 Each commercial decorative window film includes a solvent-performance permanent adhesive and a PET liner for excellent durability and printability. They are each compatible with wide format (Solvent, Eco-Solvent, Latex, UV), Offset (Conventional and UV), and screen printing, and are also durable for up to seven years outdoors. Additionally, for detailed designs and lettering, these window films can be plotter-cut to create intricate decals, logos and displays.
Nekoosa Glass Finishes™ commercial window films can be used for a variety of applications, including:
Privacy Window Films: Achieve a sense of privacy without sacrificing natural light.
Decorative Window Films: Embrace style by printing colorful, unique and eye-catching designs.
Conference Room and Office Window Films: Create a sophisticated, private atmosphere for your meeting space that's custom to your brand.
Lobby Window Films: Establish artistic and unique accents on glass windows or doors throughout your lobby.
Retail Space Window Films: Intrigue passersby with eye-catching displays that showcase promotions or branding.
Privacy Office Films: Create a sense of privacy in office spaces that are separated solely by windows or glass while maintaining a professional environment.
The Nekoosa Glass Finishes™ also includes a Bird Safety Window Film engineered specifically to allow birds to see windows that otherwise appear invisible, ultimately reducing the risk of injury or death for the bird, and structural damage for the building. This clear PET film contains a frosted dot pattern that is unobtrusive for humans, but recognizable for birds. This film is additionally a part of our Nekoosa Promise™ sustainable print media portfolio, as it equally helps conserve our wildlife and minimize the broader impact on pollination and crop production.
Achieve uniqueness, aesthetics and privacy, and embrace endless possibilities with Nekoosa Glass Finishes™ commercial window films.
To request a free Nekoosa Glass Finishes™ Sample Fan-Out, please click here.