Wide & Grand Format Rolls

Offset, Screen, HP Indigo & Dry Toner Sheets

Offset, Screen, HP Indigo & Dry Toner Sheets

Cut Films

Application Tapes & Premasks

Carbonless Papers

Extruded Films

Applications

Printer Compatibility

About Us
X

Wide & Grand Format Rolls

Offset, Screen, HP Indigo & Dry Toner Sheets

Cut Films

Application Tapes & Premasks

Carbonless Papers

Extruded Films

Applications

Printer Compatibility

About Us
How to Apply Static Cling Vinyl
Posted by
Nekoosa
on 8/10/22 2:30 PM
---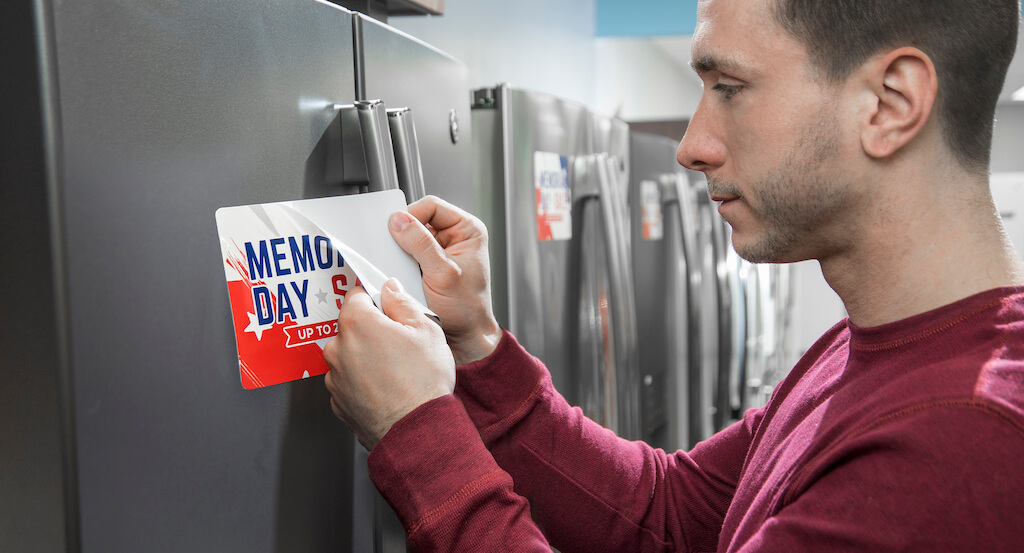 If you've worked with any kind of adhesive signage, you know how important it is to have a quality, easy-to-use static cling vinyl film as the foundation of a sign that is versatile and durable. Price stickers, point-of-purchase decals and general window advertising are often repositioned, swapped or changed quite frequently, and this means users need to understand the best practices for applying static cling vinyl in order avoid common pitfalls like bubbling, messy residue or poor adhesion.
The challenge is understanding the tools and processes necessary to ensure your vinyl cling sticks — literally and figuratively. In this blog, we'll walk through the equipment you need and what you should know about applying static cling vinyl to help ensure clean, crisp and effective signage.
Does applying static cling vinyl require any preparation beforehand?
The short answer is yes — there are a few necessary steps to take before applying a static cling vinyl sign, but the good news is the preparation is relatively simple, fast and doesn't require a host of specialized tools or application agents.
Speaking of tools, there are a couple of common or household tools you should have at-the-ready to prepare the surface for a high-quality adhesion:
A degreasing solution
A soap and water solution to remove any dirt or grease from the application surface
Isopropyl alcohol (rubbing alcohol)
Lint-free cloth
A graphic squeegee
A spray bottle with water and a few drops of liquid soap
A pin or needle
To prep the surface for application, degrease the surface with the degreasing solution and then wipe it clean with the soap and water solution. Then, rinse the surface with clean water and dry it using the lint-free cloth. Finally, to ensure all residual chemicals have been removed, use the cloth to wipe down the surface with a 50/50 mix of isopropyl alcohol and water.
It's important to note that the ideal surface temperature is at least 40°F. This will help avoid premature bonding and the chance of distorting the graphic during installation. With these few simple steps checked off your list, you're now ready to apply your cling vinyl sign to both dry and wet surfaces.
How do I apply cling vinyl to wet and dry surfaces?
Part of what makes cling vinyl signage so valuable is the ease with which it can be applied to dry or wet surfaces in both indoor and outdoor environments — in fact, the process for dry or wet surface application does not differ that much and neither requires any significant time investment. To apply static cling vinyl to a dry surface, first clean and prepare the surface as outlined above. Then, simply:
1). Choose and place the graphic in the desired location leaving at least 1/8" space between graphics and any window frames. You can do this by placing the graphic on the window and taping it on the sides to hold in place, or by holding the graphic in place.
2). Peel backing paper approximately 1" from the top of the graphic. Once peeled, fold down and crease the backing paper, and then squeegee in position from center to edges.
3). Remove the backing paper a little bit at a time and squeegee as you go. Be sure to use firm, overlapping strokes from the center toward the edges of the sign. Continue this process until the liner is completely removed.
Air bubbles can occur during application, so simply use a needle or pin to puncture the bubble, and then smooth the vinyl with a squeegee from the center towards the edges — this will help prevent edge lifting. Lastly, gently wipe down the application area with the lint-free cloth and your static cling vinyl sign will experience maximum adhesion in 24 to 48 hours.
When applying cling vinyl to a wet surface, simply repeat the same process as the dry application, but first spray the application area with the water solution used to prepare the surface and then wipe the area clean. Next, wipe down the surface with the 50/50 isopropyl alcohol and water blend immediately after the backing paper has been removed. Wipe the vinyl and adjacent area clean one final time. As with a dry application, maximum adhesion can take up to 48 hours.
What makes Hi-Stat® from Nekoosa the ideal static cling vinyl?
Durable, versatile and simple to use, Hi-Stat® from Nekoosa is a soft, flexible cling vinyl that is easily applied to a variety of surfaces including polished, stainless and glass without the need for adhesives or solvents. Compatible with indoor and outdoor use, Hi-Stat® is the static cling vinyl of choice for industries such as retail and hospitality to create engaging, dynamic signs that can be easily repositioned or removed without error or mess.
Available in folio sheets, digital cut size sheets and wide format rolls in a variety of finish and liner combinations, Hi-Stat® from Nekoosa offers superior flexibility and customization to create the ideal sign for an endless array of applications. Plus, we also offer Hi-Stat Opti-Cling®, which offers superior optical clarity for the same variety of signage applications.
Learn more about how Hi-Stat cling vinyl from Nekoosa can help you create your ideal signage and request a sample.