Wide & Grand Format Rolls

Offset, Screen, HP Indigo & Dry Toner Sheets

Offset, Screen, HP Indigo & Dry Toner Sheets

Cut Films

Application Tapes & Premasks

Carbonless Papers

Extruded Films

Applications

Printer Compatibility

About Us
X

Wide & Grand Format Rolls

Offset, Screen, HP Indigo & Dry Toner Sheets

Cut Films

Application Tapes & Premasks

Carbonless Papers

Extruded Films

Applications

Printer Compatibility

About Us
Effortless Signage Solutions with Nekoosa
Posted by
Aaron Bares
on 12/9/20 8:00 AM
---
If you have ever worked in a national restaurant chain or retail store you experienced this exact situation at some point…. it is 10 minutes before closing and the manager walks over with a "new campaign kit" that needs to be installed by tomorrow. Already tired, and now frustrated that you have to do this, you frantically pull out everything and figure out where to place each graphic and how to install them. Nekoosa's Effortless Signage portfolio is made up of products for this specific situation; products that are easy to install, reposition and remove… virtually, effortless. Each graphic will go up easily, and the finished piece will look like it was done by a professional (minus the professional).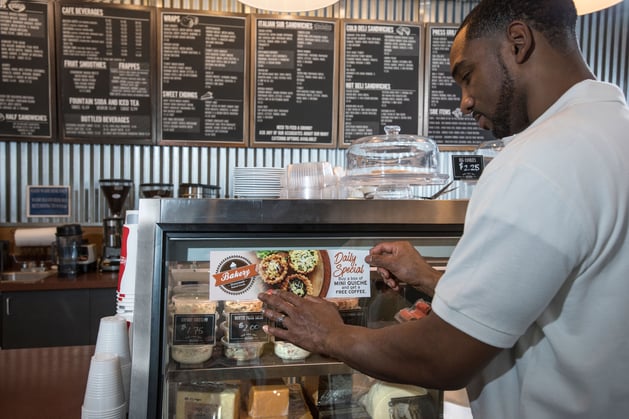 Consistency amongst store locations can also present major issues when installing graphics. We have all been in that cell phone store that was renovated from a bakery that was previously converted from a gas station. These store layouts can be extra difficult when implementing a consistent signage campaign. In many cases, the signage that came in the last campaign kit likely never made it up because of the stores non-conforming layout. Our solution to this specific situation is ClingZ®, adhesive free film. ClingZ® adheres to any dry, clean indoor surface and can be repositioned multiple times. Graphics printed on ClingZ® stick to the surface by an electrical charge, making it a great choice for hotels, convention centers, hospitals and universities where facilities may have strict regulations on the type of adhesives used on their walls and surfaces.
Nekoosa offers effortless signage solutions for window graphics, wall graphics and one-step floor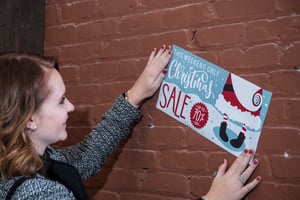 graphics to help with all your promotional signage needs. We all know, now more than ever before, that effective signage keeps customers and employees informed, safe and up-to-date. The products listed below will not only give your store a professional, consistent look but also save you money on costly reprints from a botched installation job… like the jobs an 18-year-old me "completed" at the national chain restaurant right before getting ready to go home for the night.
Nekoosa's Effortless Signage Portfolio
For further information or to request samples, please visit the product webpages listed above and select the product you would like to try.