Wide & Grand Format Rolls

Offset, Screen, HP Indigo & Dry Toner

Offset, Screen, HP Indigo & Dry Toner

Cut Films

Application Tapes & Premasks

Application Tapes & Premasks

Carbonless Papers

Extruded Films

Applications

Printer Compatibility

About Us
X

Wide & Grand Format Rolls

Offset, Screen, HP Indigo & Dry Toner

Cut Films

Application Tapes & Premasks

Carbonless Papers

Extruded Films

Applications

Printer Compatibility

About Us
Cleaning ChalkTalk®, Removable Chalkboard Film
Posted by
Jim Hingst
on 9/27/14 8:00 AM
---
The grainy texture of ChalkTalk® removable chalkboard film provides an exceptional finish for writing and drawing with either chalk or chalk ink. ChalkTalk® is perfect for use as a restaurant menu board or as an appliqué in a home environment.
In writing on either a slate surface or a chalkboard film, such as ChalkTalk®, chalk can leave residual particles, after erasing the image using a traditional eraser. See the photo below (included for visual purposes).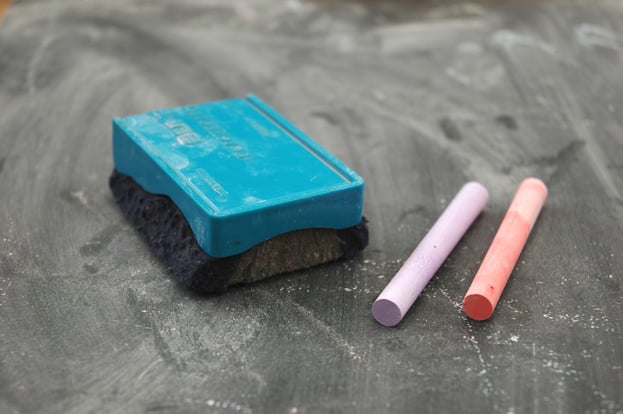 The best way to remove the ghosted image is to wipe the surface with a wet rag or wet sponge, as shown in the photo below.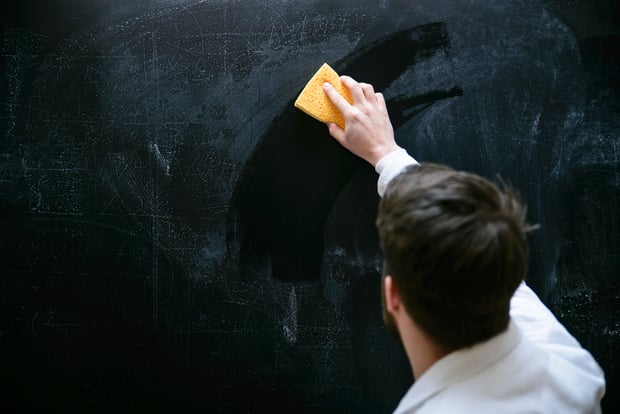 ChalkTalk® Product Information:
Removable adhesive
6 mil. textured slate gray surface
Easy application to flat, smooth, clean surfaces like painted drywall, kitchen cabinets and refrigerators
Write with chalk or liquid chalk ink pens for best results
Wipes clean with a damp cloth
Eco-friendly, child safe, CPSIA compliant, lead-free, plasticizer-free and phthalate-free
Made in the U.S.A.
Whether you use blackboard chalk or sidewalk chalk, all of it is abrasive to some degree. Sidewalk chalk is especially abrasive. Even after washing the surface, the abrasive particles in chalk can slightly scuff the surface, leaving a telltale mark. In most cases, this should not be objectionable.
As an alternative to using blackboard chalk, you can use liquid chalk markers to draw on the ChalkTalk® film (SEE: Chalk Versus Liquid Chalk Markers).