Waterproof Synthetic Paper

P.O.P. Displays, Banner Stands & General Signage

P.O.P. Displays, Banner Stands & General Signage

Window, Wall & Floor Graphics

Window, Wall & Floor Graphics

Cut Films

Application Tapes & Premasks

Carbonless Papers

Extruded Films

Applications

Printer Compatibility

Sustainability

About Us
X

Waterproof Synthetic Paper

P.O.P. Displays, Banner Stands & General Signage

Window, Wall & Floor Graphics

Cut Films

Application Tapes & Premasks

Carbonless Papers

Extruded Films

Applications

Printer Compatibility

Sustainability

About Us
Chalk Versus Liquid Chalk Markers
Posted by
Jim Hingst
on 11/28/12 8:00 AM
---
Which is Better for Writing on Chalkboard Film? Chalk or Chalk Ink Pens?
There is nothing wrong with using chalk to write on chalkboard films. We designed our ChalkTalk® chalkboard film with traditional chalk in mind. However, there are advantages to using chalk markers, such as the Chalk Ink® brand of markers.
Chalk markers are not as messy and do not produce chalk dust. The Chalk Ink® markers remove cleanly and easily without ghosting.
Real chalk is abrasive. Every time you use it on a chalkboard film, it scratches the surface. Eventually, the surface of the film is so scratched up, that its appearance is objectionable. We have tested many types of chalk on our ChalkTalk® chalkboard film, on competitive films and on slate chalkboards. The result is always the same. Regardless of whether we use soft chalk, dustless chalk or colored chalk, they all have abrasive particles and all leave indelible marks on all types of chalkboards.
Chalk Ink® markers are bolder and more vibrant than regular chalk. Commercial applications, such as restaurant menu boards, will be easier to read and aesthetically pleasing with the use of bold chalk ink pens.
Which Chalk Ink Pen Should I Buy?
Be careful of which brand of marker that you buy, as not all not all are compatible with our ChalkTalk® chalkboard film. There are chalk ink markers and then there are Chalk Ink® markers. Some types of generic chalk ink markers, such as the Pentel markers, utilize a solvent-based ink, which do not remove cleanly from ChalkTalk®.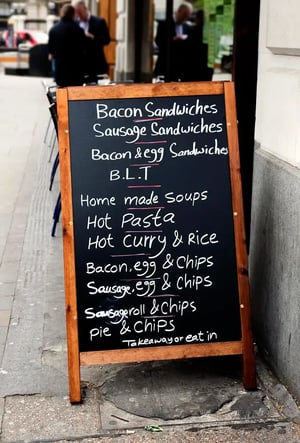 Chalk Ink® offers two types of chalk ink pens that both work well with ChalkTalk®.
Wet Wipe Markers – The Wet Wipe Markers use a water-based ink. Once the ink dries, they resist smearing. To clean the ink from the surface of ChalkTalk®, simply wipe the ink with a damp rag. The ink should come off easily and with no ghosting residue.
Artista Pro Markers – The inks in Artista Pro Markers are durable, semi-permanent and water resistant. If you use these types of markers, clean the ChalkTalk® surface with an ammonia-based cleaner, such as Windex.
Advantages of Chalk Ink® are explained in more detail in their YouTube video.
We continue to test the compatibility of other markers with our ChalkTalk® chalkboard film. We believe that other water-based liquid chalk markers on the market will also perform acceptably. As we continue our investigation, we will publish the results.
About ChalkTalk®
Nekoosa's ChalkTalk® chalkboard film is available through distribution partners worldwide. For a full list of stocked roll sizes, please click here to read the product overview sheet. Email the Nekoosa sample department today at samples@nekoosa.com to order a free sample.