Wide & Grand Format Rolls

Offset, Screen, HP Indigo & Dry Toner

Offset, Screen, HP Indigo & Dry Toner

Cut Films

Application Tapes & Premasks

Application Tapes & Premasks

Carbonless Papers

Extruded Films

Applications

Printer Compatibility

About Us
X

Wide & Grand Format Rolls

Offset, Screen, HP Indigo & Dry Toner

Cut Films

Application Tapes & Premasks

Carbonless Papers

Extruded Films

Applications

Printer Compatibility

About Us
Nekoosa Cut Film Portfolio - What You Need to Know
Posted by
Nekoosa
on 11/4/20 8:00 AM
---
All of the Nekoosa Cut Film products you know, love and trust – combined into one convenient portfolio. Our Nekoosa Cut Film portfolio is comprised of a variety of vinyl, reflective and polyester products – 12 VinylEfx patterns and 41 GMI variations. Both materials are made in the U.S.A. and cut and weed easily to make for a quick, effortless installation process.
Applications include, but are not limited to: cut lettering, decals, point-of-purchase signage, holiday décor, bumper stickers, fleet markings, decorative in-store displays, seasonal signage, decorative labels, trade show graphics, event signage, banner graphics and name plates.
Darci Laudenbach, Owner and Installer at CC Graphics (pictured installing VinylEfx® below) said VinylEfx® and GMI's wide range of colors and patterns help to make them a go-to product. "With growing popularity of metallic substrates in advertising, VinylEfx offers a good variety of colors and textures to meet your needs. The VinylEfx adds a shimmer to any surface attracting the eyes of many different customers. Both GMI and VinylEfx weed fast and easy!"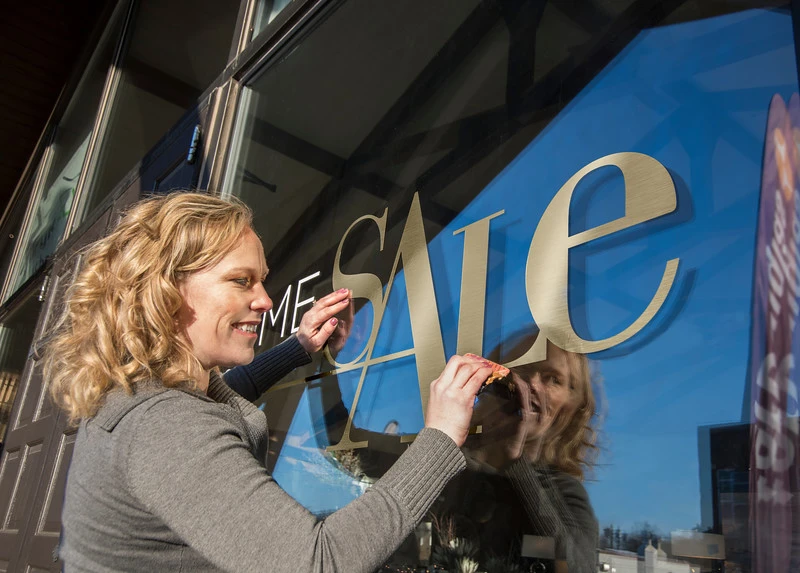 What are Your Tips and Tricks to Installing These Products? "When you install VinylEfx or GMI make sure you start with a clean surface. Wiping down the surface with 70% alcohol will clean the surface so you are ready for installation. When installing, I usually do the hinge method, so I line up the lettering where I want it, I then put a piece of tape down the middle. From there I peel the backing paper off back to the middle, cut off the backer and start applying the first side. I like to hold my material taught and keep it up off of the surface. Then use firm squeegee pressure to press the vinyl down. I then take the tape off the middle and do the same thing to the other side. Take the backing paper off and hold the material taught and use firm squeegee pressure to insure you get a good adhesion and no bubbles," says Laudenbach.

Want to See it in Application?

Check out the video below! Last fall, we partnered with students at the Port Edwards School District in Wisconsin to cut, weed and install inspirational quotes and school spirit cut lettering within the halls of their school


Request FREE samples of VinylEfx® and GMI directly from their product pages on our website! Simply add the colors of swatches you want to your cart, fill out your information and click order. For more information or product inquiries feel free to contact us here.

Download the Nekoosa Cut Film Brochure here.