X

#MeetOurTeam - Marketing Communication Specialist, Tianna Vanderhei
Posted by
Nekoosa
on 6/3/20 9:07 AM
---
Hi and thank you for taking time to check out the Nekoosa blog and learn more about our internal team members. Tianna Vanderhei here, Marketing Communication Specialist at Nekoosa - spanning our four locations in Nekoosa, Wisconsin; Lakewood, New Jersey; Plainfield, New Jersey and Las Vegas, Nevada.
As an introduction to our '#MeetOurTeam' series of blog posts and a little background knowledge about myself, we wanted to kick off our Q&A posts with some insight about my professional and personal experience given that most of the Nekoosa blog posts will be written by me (fun fact!).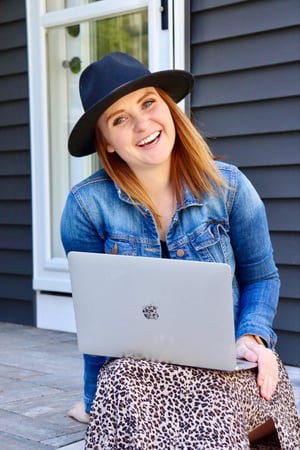 How long have you been/worked at Nekoosa? I started at Nekoosa in June of 2019, I'm celebrating my one year mark this week! I hold a Bachelor's of Science Degree in Communication Studies and Broadcast Journalism from the University of Wisconsin-La Crosse. Prior to starting at Nekoosa, I worked in advertising/billboard sales and broadcast journalism with experience in marketing, branding, video editing, photography and social media.
What is your role with Nekoosa (i.e., what does your day-to-day look like)? My day-to-day shifts on a regular basis depending on the tasks at hand and if we have any upcoming events, travel plans or product spotlights.
My primary role is to enhance and manage internal and external communications - think COVID-19 statements, product launch email blasts, internal newsletters, social media content, etc. Other responsibilities include, but are not limited to:
Overseeing product spotlights, creating social media graphics, setting up photo shoots, taking photos (when needed), drafting email blasts and sending out communications
Recording, editing and uploading new video content to the Nekoosa YouTube channel
Drafting and editing blog posts and social media content
Assisting distributors, printers and end-users garner Nekoosa product collateral for promotions, social media and communication efforts (images, downloadable .PDFs, co-branded pieces, etc.)
Collaborating with our graphic designer to create, decide on and print new samples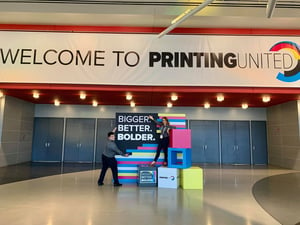 What do you like about working at Nekoosa? One of the things about Nekoosa as a company that captivated me from the very beginning was the openness of management and the executive team to make employees feel valued and heard. From the moment I walked into the conference room for my initial interview, I felt a heightened sense of comfortability with an opportunity to create my own path. I love that I feel 110% able at any point to share my ideas or feedback, helping myself, my teammates and our company grow together as one.
I also enjoy traveling and meeting new people. The opportunity to attend trade shows and interact with our distributors, printers and end-users excites me and helps to spark new marketing objectives as I strive to provide answers to the questions that arise.
What is your favorite product Nekoosa manufactures? Oh this is so tough! It's a toss up between SYNAPS, our waterproof, synthetic polyester film and ClingZ. It's difficult to pick just one because it's constantly changing depending on my marketing project at-hand and as I learn different printing capabilities. SYNAPS stands out to me because it provides a durable alternative to lamination. It's waterproof, tear proof and fade resistant. Not to mention, its high grade polyester base stock provides a level of luxury no matter the usage it's printed and intended for - i.e., menus, maps, I.D. cards, plant stakes, signage, etc.
ClingZ on the other hand is an adhesive-free, electrically charged graphic film that adheres to any dry interior surface. It can adhere to surfaces ranging from glass to drywall to stainless steel and even brick! It's effortless to apply and reposition to any dry, interior surface without leaving any damage behind. The possibilities are endless.
What do you like to do outside of work (hobbies, activities, etc.)? Outside of work, I love to stay active and spend time outside. I am an avid runner, enjoy hiking, playing with my puppy, Chester, golfing, hunting, traveling, boating and water-skiing. This Spring, I started a large vegetable garden and am discovering a deeper appreciation and skill set for growing seedlings and keeping plants alive for that matter.

I also oversee a podcast called, "The Grit Behind the Glitz" where I interview real women, in an effort to share real stories of trials and tribulations. The goal? To share voice and empower other women to push through obstacles, dream a little bigger and work harder in pursuit of their goals.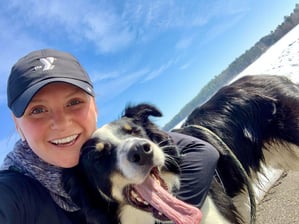 Let's connect on LinkedIn - and be sure to like the Nekoosa page as well to stay up-to-date on our products, application photos, launches, tutorials and so much more. Follow and connect with Nekoosa on Twitter, Facebook, Instagram, Pinterest and LinkedIn.