X

#MeetOurTeam - Business Development Manager, Rodrigo Flores Turcott
Posted by
Nekoosa
on 7/1/20 1:53 PM
---
Hi! My name is Rodrigo Flores Turcott. I was born and raised in Mexico City. I hold a Bachelor´s Degree in Marketing from the University of Southern Indiana. Currently, I work as the Latam Business Development Manager for Nekoosa.
¡Hola! Soy Rodrigo Flores. Nací y actualmente vivo en la Ciudad de México. Me gradué de la Universidad del Sur de Indiana, en Estados Unidos, con licenciatura en Mercadotecnia.
How long have you been/worked at Nekoosa? ¿Cuánto tiempo llevo trabajando en Nekoosa?
I started working at Nekoosa in January 2019. Comencé a trabajar en Nekoosa en enero 2019.
What is your role with Nekoosa (i.e., what does your day-to-day look like)? ¿Cuáles son mis responsabilidades y funciones día al día?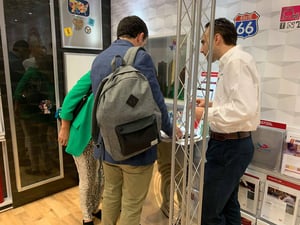 I commercially manage the Latin America Region, and my two main task are (1) to provide the tools my customers need to better serve theirs, and (2) to provide high quality information to my customers, printers, end users and the market, that will serve them to create an outstanding solution to any circumstance.
Comercialmente estoy a cargo de Latam, mis dos responsabilidades principales son, (1) asegurarme que mis clientes cuenten con el mejor apoyo comercial para mejor servir a sus propios clientes, y (2) proveer siempre información de alta calidad a mis clientes, impresores, usuarios finales y al mercado, que mejor les sirva para desarrollar soluciones innovadoras y diferenciadas de lo convencional.
My day-to-day activities are focused on strengthening and growing our customer relationships, as well as market penetration and expansion, these include:

Customer training

Printer and End User training and visits

Market research

Marketing communications

Consolidate distribution channels in each Latam country

Relationships with OEM´s and Print Associations
Mis actividades del diario están enfocadas en fortalecer y crecer la relación con mis clientes, al igual que desarrollar y llevar a cabo una estrategia de penetración de mercado, éstas incluyen lo siguiente:
Capacitación a la fuerza comercial de mis clientes
Capacitación, presentaciones y visitas a impresores y usuarios finales
Investigación de mercado
Acciones de Mercadotecnia
Consolidación y crecimiento de canales de distribución en cada país de Latam
Relacionamiento con OEMs y Asociaciones de la Industria de Artes Gráficas
What do you like about working at Nekoosa? ¿Qué es lo que más me gusta de trabajar en Nekoosa?
Empowerment is an aspect I greatly appreciate, which allows me to take informed decisions as to how we brand our products in a multi-language market, and where/when/who the company should do business. Latam is a very interesting market with great opportunities related to market penetration and expansion. How we position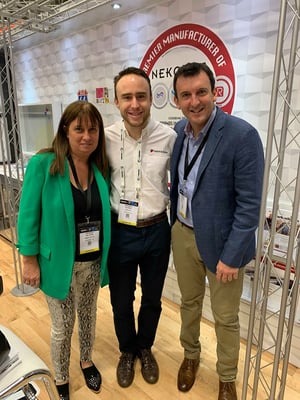 ourselves in the market is key in a region that is price-driven, with social and political challenges.
Support is crucial for my day-to-day activities, as I travel frequently, and it is very easy to communicate internally, as all the areas are interconnected. Our commercial responsibilities require promotional support, especially for Latam, and our Marketing Team is world´s first class. In order to provide outstanding service to our clients, in their language, the Customer Service team assigned Rossana Jurado to help me best service our customers, and she is always proactive and available to do so.
Adaptability is what has made Nekoosa successful, as it constantly evolving and orienting the company´s efforts to high growth market segments. We have acquired companies that have helped us offer the most innovative and competitive portfolio, which has allowed to position ourselves as market leaders.
Empoderamiento es un aspecto crucial que me permite tomar decisiones informadas sobre cómo posicionar nuestros productos y servicios en un mercado bilingüe, y definir con quién, dónde y cuándo hacer negocios. Latam es un mercado interesante con grandes oportunidades de penetración y expansión de mercado. Cómo posicionarnos en Latam es clave, ya que es una región sensible al precio, con desafíos sociales y políticos.
Soporte es crucial en mi día a día, debido a mis frecuentes viajes, por la facilidad de comunicación interna, ya que todos los equipos de distintas áreas en Nekoosa están interconectados. Nuestras responsabilidades comerciales requieren soporte promocional, especialmente para Latam, y nuestro equipo de Mercadotecnia es magnífico. Para proporcionar excelente servicio al cliente en su idioma natal, Rossana Jurado, Gerente de Atención al Cliente, está dedicada a Latam para todo tema administrativo, ella siempre está en la mejor disposición para atender de la mejor manera a nuestros clientes.
Adaptabilidad es lo que hace a Nekoosa exitoso, ya que constantemente está evolucionando y orientando sus recursos hacia segmentos de alto potencial de crecimiento en nuestra industria. Hemos adquirido compañías que nos ayudan a ofrecer las más innovadoras soluciones y productos, al igual que fortalecer, complementar y hacer más competitiva nuestra oferta, factores de los cuáles nos permite posicionarnos cómo líderes en la industria.
What is your favorite product Nekoosa manufactures? ¿Cuál, de los productos que fabricamos, es mi favorito?
My favorite product is ClingZ®. Innovation is what defines it, as there is no other product like it in the market. It adheres to any type of surface, and it is perfect for COVID-19 applications for any type of industry due to its environmentally friendly characteristics. ClingZ® is 100% recyclable and PVC-free, these are two important aspects for Latam, as we are converting our consumption to an environmentally conscious one. ClingZ® also replaces traditional products and processes, because ClingZ® installs in a snap, is bubble-free which can be applied effortlessly and leaves no residue.
Its compatibility perfectly fits to the most used print technologies in the market, such as offset and UV wide format, and it is certified with HP Indigo.
Definitivamente ClingZ. Innovación es la definición precisa de ClingZ. No existe competencia directa en el mercado, ya que, al ser un polipropileno eléctricamente cargado, se adhiere a todo tipo de superficie. Es el producto perfecto para aplicaciones Covid19 para cualquier tipo de industria, al ser un producto amigable con el medio ambiente. ClingZ es 100% reciclable y libre de PVC, éstos dos factores son importantes en Latam, ya que el mercado se está concientizando para usar productos ecológicos. ClingZ reemplaza productos y procesos convencionales que se traducen en costos adicionales, ya que se instala fácilmente, es reposicionable, removible, no deja residuos y no genera burbujas. También, ClingZ es compatible con las principales tecnologías de impresión en el mercado, las cuáles son Offset, Gran Formato UV y HP Indigo.
What do you like to do outside of work (hobbies, actives, etc.)?
¿Qué me gusta hacer fuera del trabajo (hobbies, actividades, etc.)?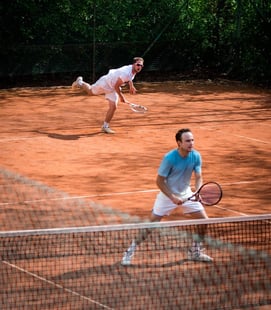 I am very active, I play tennis, padel, and I run very frequently. I try to compete in these sports as much as I can. I like traveling; it is something I try to convey as often as possible, I find highly valuable exploring places within my country, México, as we have a very rich history, culture, traditions, and hundreds of magical towns in land/mountain/beach. I also find fascinating going to places I´m not familiar with, especially the ones I don´t speak the language, which gives me a sense of exploration I enjoy living. I normally do the things above in the company of good friends and family.
Soy una persona muy activa, me encanta jugar tennis, pádel y correr. Intento competir en éstos deportes lo más frecuente posible. Disfruto mucho viajar, especialmente descubrir nuevos lugares y pueblos mágicos en todo México, ya que somos únicos en cultura, tradiciones e historia. También disfruto viajar a países dónde tenga poca familiaridad, especialmente con idiomas distintos, lo cual me es fascinante explorar. Normalmente hago éstas actividades en compañía de buenos amigos.
Contact with me on LinkedIn, HERE.
For Latam business inquiries, feel free to reach out to me via email at rflores@nekoosa.com