X

Celebrate Halloween with $5 Nekoosa Bucks Customer Loyalty Promotion
Posted by
Nekoosa
on 10/1/20 8:43 AM
---
What's New at Nekoosa? During the month of October, our Nekoosa Bucks customer loyalty program is offering a spooky good deal! From October 1st through October 31st, every $1 Nekoosa Bucks code found within qualifying cartons of carbonless paper will automatically be worth $5 when the code 'PUMPKIN' is used.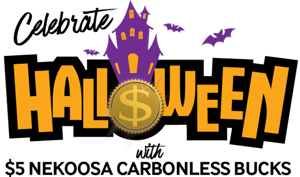 How does Nekoosa Bucks work? If you haven't redeemed before, you will need to go to the Nekoosa Bucks web page and Create a My Nekoosa user account. Once logged in, simply type in the 8-digit redemption code found on the front of the Nekoosa Bucks flyer *and* type in the promotional code, 'PUMPKIN' and click 'Redeem.' It's that easy! Once you reach $25 in redemptions, we will send you a $25 MasterCard gift card. You can also continue to grow your account and request gift cards in larger denominations. Your redemptions will add up to a spooky good total - earning you extra cash as a simple reward for purchasing Nekoosa.
What Makes Nekoosa Carbonless Unique? Nekoosa has been manufacturing carbonless paper for more than 50 years! In fact, no one comes close to matching our pioneering spirit and track record of "firsts" and "bests" in the carbonless paper market. With consistently crisp, dark, legible images through each ply, Nekoosa carbonless provides the thickest, stiffest sheets for optimal runnability. Nekoosa's carbonless paper can also be collated and micro perfed. Need custom sizes? Not a problem! Our knowledgeable customer service team is happy to assist you with your needs! Nekoosa Bucks are available in select cartons of 8.5"x11" and 11"x17" carbonless paper.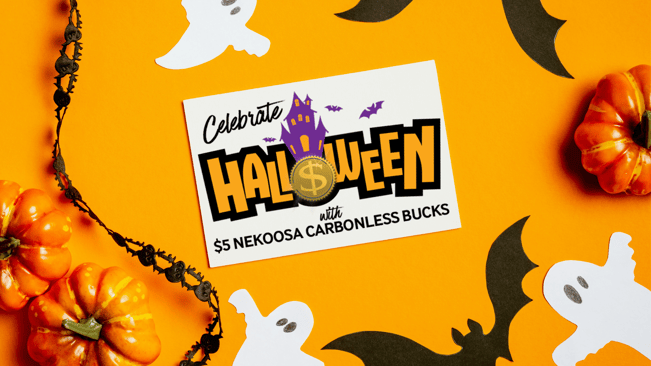 What Variations of Carbonless Paper Are Available?
U20 Carbonless - Laboratory tests on U20® Carbonless prove that Nekoosa's exclusive Image Lock technology delivers the darkest, most permanent images, which add up to exceptional carbonless form readability.
Universal Carbonless - Using industry leading chemistry, Universal carbonless paper is engineered for long-run offset and quick turnaround on-demand digital dry toner/laser printer.
Digital Carbonless - Developed specifically for today's rapidly growing digital print market, Digital Carbonless paper suits a variety of applications with high opacity and excellent body.
What is Nekoosa Carbonless Paper Used For? Multipart forms, variable data forms, barcoded forms, service receipts, repair order forms, parking tickets, purchase order forms, packing slips, bank books, medical forms, retail receipts, automotive service receipts and legal forms.
For more information please contact us at nekoosabucks@nekoosa.com or (877) 258-6046. To log into your Nekoosa Bucks account or create a new one, click HERE.